EIS lecturers to vote on strike over 1% pay offer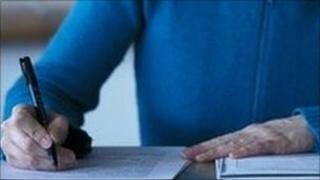 Scotland's biggest teaching union is to ballot for industrial action over a pay offer of 1%.
The Educational Institute of Scotland (EIS) said the increase put to members in higher education institutions was unacceptable.
Union bosses have recommended lecturers vote against the deal.
If lecturers agree to action up to or including a strike, it is likely to begin in October and possibly be linked to action by other unions.
The University and College Union (UCU) is already balloting its members for industrial action over pay.
General secretary of the EIS, Larry Flanagan, said university lecturers had endured pay awards of less than the rate of inflation for each of the past three years and were "not prepared to accept a fourth year of real-terms pay decline".
He added: "Scotland is proud of its higher education sector, and the fact that it sends such a large percentage of young people to universities and other higher education establishments.
"Our excellent lecturing staff are absolutely essential to this success, so it is right that they should be appropriately and fairly remunerated for the valuable teaching and research work that they do."
Lecturer pay is subject to UK-wide negotiations through the New Joint Negotiating Committee for Higher Education Staff (New JNCHES).
Mr Flanagan said: "I would urge all EIS members working in higher education establishments to use their vote in this ballot, and to vote yes for industrial action in defence of their pay and their standard of living."
The EIS ballot will run until 10 October and if members vote yes then industrial action would start from 23 October.
Responding to news of the ballot, a Scottish government spokeswoman said: "The Scottish government has invested significant funding in our universities and colleges and we appreciate the hard work and dedication of staff in the education sector.
"As independent bodies pay is a matter for institutions, staff, and the appropriate unions and we hope a solution can be found which avoids any disruption to students learning."