Kenny MacAskill given Lockerbie probe claims deadline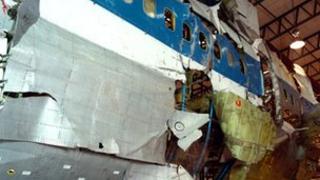 Campaigners demanding a new inquiry into the 1988 Lockerbie disaster claim to have evidence that the investigation into the tragedy - and the subsequent trial - were mishandled.
They have written to Justice Secretary Kenny MacAskill, giving him 30 days to respond.
If he does not, the group - Justice for Megrahi (JFM) - said they will publish their evidence.
MSPs are later due to again consider the group's petition for an inquiry.
The Scottish government has previously rejected the group's demands for an inquiry into the 2001 conviction of Libyan Secret Service agent Abdelbaset al-Megrahi who was found guilty of 270 counts of murder.
"The issues being raised in relation to the conviction itself must be a matter for a court of law - Mr Al-Megrahi was convicted in a court of law, his conviction was upheld on appeal, and that is the only appropriate place for his guilt or innocence to be determined," a spokesperson said.
"And, of course, the Lockerbie case remains a live investigation, and Scotland's criminal justice authorities have made clear that they will rigorously pursue any new lines of inquiry."
Major flaws
JFM said the investigation of the bombing was carried out by the Crown Office and the prosecution at Kamp van Zeist in the Netherlands was under Scots law, so an inquiry would lie within the jurisdiction of the Scottish Parliament.
In its letter to Mr MacAskill, the group claims to have evidence of major flaws in the investigation and trial.
The group's secretary, Robert Forrester said: "We do not propose to go public or divulge details of our allegations at this stage.
"We have given 30 days from 13 September to allow the justice secretary time to respond."
He said if no response was forthcoming, JFM would publish its evidence.
The convener of the Scottish Parliament's justice committee, Christine Grahame, said discussion on the petition, which was presented to Holyrood in 2010, may be continued until the justice secretary has had time to consider it.
In 2001 Megrahi was found guilty of committing the 1988 atrocity which saw 270 people killed over the south of Scotland town of Lockerbie.
The Libyan bomber was returned to his home country on compassionate grounds in August 2009 after serving 10 years in a Scottish jail.
He was suffering from prostate cancer and was released by Mr MacAskill when it was thought he had only a matter of months to live.
Megrahi, who died in Tripoli in May this year, always protested his innocence.