'Meteor' sightings across Scotland prompt 999 calls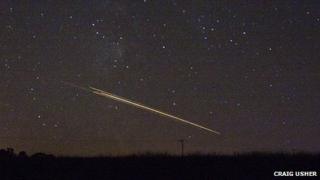 A suspected meteorite shower over the UK prompted a flurry of 999 calls from worried members of the public across Scotland.
Concerned callers from Airdrie to Arbroath likened the lights they saw in the sky to flares, fireworks and even a plane crash.
The lights were seen as far north as Caithness and by islanders on Skye.
Coastguard and police up and down the country were inundated with reports from about 23:00.
Experts said the meteors could be space junk, possibly satellite debris, burning up on entry to the atmosphere.
Sightings were reported in parts of central Scotland including in Edinburgh and Glasgow.
Brian Guthrie in Grangemouth, near Falkirk, who watched the objects pass through the sky, told the BBC it appeared to be something "pretty large breaking up in the atmosphere".
"I've seen shooting stars and meteor showers before, but this was much larger and much more colourful."
Alastair MacMillan spotted something in the sky as his walked his dog near Kilmacolm in Renfrewshire.
"I told my wife 'you are going to think I am mad'", he said.
"This bright light caught my eye and I looked up and this ball of fire with a long green tail was coming over the hill and its angle of trajectory was that it was going to fall in the field that I was in.
"I stood watching and it came down but then it stopped coming down and went on over the houses and trees.
"It was blooming close, maybe about 150 - 200ft off the ground. There was no noise at all. There were sheep all around me and they didn't bat an eyelid. There was no whoosh, no squeak, just this bright, bright light."
John Davies from The Royal Observatory, Edinburgh, said: "The space around the earth is full of lots of small pieces of debris, tiny pieces of rock that have chipped off asteroids, dust that has fallen off comets and when these things burn up in the atmosphere we see them as shooting stars.
"They happen all the time, a few every hour, but big ones are much rarer and this seems to have been a comparatively big piece.
"Obviously I don't know how big but I would guess maybe a metre by a metre, the size of a tea chest".
Weirdest fireworks
Coastguards in the Shetland Islands received what they believe is Scotland's most northerly sighting of the meteor at 23:00 BST.
A person rang them reporting a bright white light in the sky over the Stacks of Duncansby in Caithness.
A spokesman for Forth Coastguard said: "From talking to other stations and to the RAF it's almost certainly meteorite activity.
"Calls came in from all over the place, thick and fast. We've had people report possible plane crashes, and others the weirdest fireworks they've ever seen.
"Folk just haven't known how to describe what they've seen. It's quite extraordinary."
The spokesman said reports had come from Crail, Johnshaven and Arbroath.
Clyde Coastguard said it had received a "wee flurry" of calls reporting flares seen in Drummore, Airdrie and Brodick on Arran.