Thousands at Scottish independence rally in Edinburgh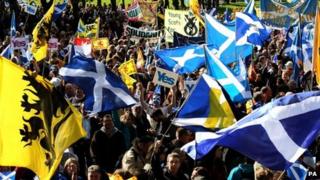 Thousands of people have taken part in an event in Edinburgh aimed at demonstrating support for independence.
Crowds waving saltires and lion rampant flags gathered in the Meadows before heading to Princes Street Gardens.
Several speakers, including SNP leader Alex Salmond, addressed the crowds.
Politicians, civil action groups and entertainers attended the event. It was staged under the banner Independence for Scotland and is not part of the official Yes Scotland campaign.
Lothian and Borders Police estimated that about 5,000 people took part in the march and rally.
It is the first in a series of events planned in the run up to the independence vote.
Mr Salmond, who wants to hold the referendum vote in autumn 2014, told those gathered Scots had the right to choose a national health service, no tuition fees and minimum alcohol pricing.
He said: "We believe that just as the skies around Scotland were lit up by meteors last night, this campaign will light up Scotland over the next two years
"I've spoken to many crowds in these gardens over the last few years but never to a rally of a scale and breadth and width of this great rally today."
Comedian Hardeep Singh Kohli, lawyer Aamer Anwar and writer Alan Bissett attended the event along with representatives from groups including Scottish CND, Young Scots for Independence and Citizens Against Public Service Cuts.
Independent MSP Margo MacDonald also addressed the rally.
She said: "If a third of Scots believe in independence and want independence now, every one of us has got two years to persuade another Scot, and then we're home and dry.
"That's not fanciful, that's just practical."
Peter Walls, 46, from Dundee, said: "I think today is a warm-up for 2014. For me it's about self-choice, about not being dictated to."
The SNP member said he had wanted independence "since Thatcher was in power".
June Sutherland, 64, from Broxburn in West Lothian, said she had not supported independence a year ago but now felt differently.
She added: "I didn't expect the turnout today. I'm proud to be here."
Lothian and Borders Police said two people were arrested for minor offences.