Animal poisoning: Drop in deliberate cases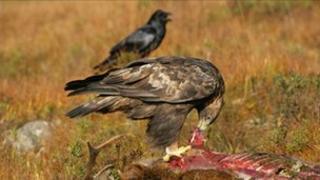 Birds of prey, pet dogs, and wild animals were among the victims of deliberate or accidental poisonings in Scotland last year.
Figures from Scottish government show birds of prey remain most at risk.
Deliberate poisoning resulted in the deaths of a golden eagle, two peregrine falcons, two sparrowhawks, four red kites and seven buzzards.
But the report says the number of confirmed cases of intentional poisoning has fallen by 50% since 2010.
The newly published statistics show that in 2010 there were 32 confirmed abuse instances. This dropped to 16 in 2011.
There has been a small increase in the total number of cases that required investigation, from 233 in 2010 to 237 in 2011.
There were also a number of accidental poisonings including a dog who died after exposure to a substance used to control a rat infestation, a dog who swallowed a slug pellet and a cocker spaniel who ate poison after rooting around in rubbish while being walked in a rural area of Perthshire.
Proper balance
Environment Minister Paul Wheelhouse said: "Scotland's natural environment is one of our most valuable assets not only for tourism but also for the well being of our nation.
"It is essential that we protect it and ensure that it is a safe place to be for all users as well as wildlife and domestic animals.
"Ensuring that legitimate pesticides are used correctly whilst the use of illegal substances are policed is key and this will help avoid tragic cases of accidental poisonings."
The minister welcomed the drop in the number of abuse cases and said the Scottish government was working to put a stop to illegal poisoning.
Duncan Orr-Ewing, from RSPB Scotland, said : "We welcome efforts by land management interests to reduce, and hopefully in time eliminate, the devastating impacts of illegal poisoning on protected bird of prey species.
"However, from these 2011 SASA figures, it is clear that in some parts of the country there are still problems impacting golden eagles, red kites and other vulnerable species.
"We call on the public to be vigilant and report suspected illegal poisoning incidents to the police."
Douglas McAdam, of Scottish Land & Estates, which represents 2,500 landowners added: "We welcome the continued reduction in the number of confirmed cases of illegal bird of prey poisonings, it is even more welcome when this clear trend is seen against a backdrop of increased numbers of cases being reported and investigated.
"We will continue to strive for a proper balance in how we manage our wildlife, for the benefit for all."