Fergus Muirhead answers your consumer questions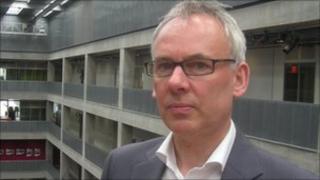 I'm Fergus Muirhead and I'm here to answer any questions you may have about any money or consumer issues.
Please drop me a line here at fergus@bbc.co.uk with your questions.
You can also read more on money and consumer issues on my own blog.
I wonder if you could confirm that the letter I have received from Santander is 'in order' Dated August 2012, they inform me that they 'might' be increasing their SVR from October and illustrate what that increase would be. They also confirm that they will write between 16th October and 7th November confirming their decision. I feel this outrageous, given the Bank of England Interest Rate is at a '41' month low. Just another way of getting money perhaps? Elaine Allan
Every lender has its own Standard Variable Rate and this is generally the rate that every borrower who is not on a fixed rate pays. Each lender is free to set its own SVR and as you have discovered lenders are free to vary this rate when it suits them, perhaps because they want to attract more borrowers by offering a more competitive rate. If you are not tied in to this rate then you are free to look for another lender that is offering a more competitive rate, but be aware that there may be costs involved in this sort of move. As you rightly say, interest rates are at an all-time low, and there is general disquiet at banks using this to increase interest rates rather than give borrowers a bit of breathing space. Having said that, there are a lot of savers who are desperate for rates to increase so that they can see some better returns on their savings. You can't please everyone!
I'm looking for some advice on finding a new lawyer. My previous lawyer has retired and I want to move on. I am a retired teacher about to get my state pension. My partner of many years is also a retired teacher and we have no children and no dependents. We are not married. I am looking for a lawyer who will give good advice. I am looking for advice obviously with inheritance tax, power of attorney etc. I am looking for someone in the Glasgow area, but not on my doorstep. Don't want past pupils turning up to advise! Any suggestions on how to go about this? June MacGregor
From the information you have provided in your email it sounds as if you do need to see a Solicitor about several issues. It is important that you find one that you are comfortable with, and so often the best starting point is to ask friends and relatives if they have anyone they have used that they could recommend. If that fails, or even if you have been given a name and you want to check it out, then go to the Law Society of Scotland website at www.lawscot.org.uk <http://www.lawscot.org.uk>. Click on 'Find a Solicitor' and you will find a great tool there where you can put in some details of the services that you are looking for and they will provide a list of suitably qualified solicitors in your area. Remember that not all solicitors are specialist in all aspects of the law so the Law Society 'Find a Solicitor' page allows you to search by name of firm or solicitor as well as by specialism or area of work, and you can narrow down the postcode or location to suit you.
I am currently employed by the NHS in Scotland and have paid into the NHS superannuation scheme for the past 25 years. I will therefore receive a pension through this scheme on retirement, will this pension have any impact on the value of my state pension when I reach the age of (I think) 66? Stephen Tucker
Your entitlement to the Basic State Pension is dependent on the National Insurance Contribution that you have made throughout your working life, and is not helped or hindered by contributions you have made to the NHS Superannuation Scheme. You can contact The Pension Service (address and other contact details available at www.direct.gov.uk ) and complete form BR19. This will give you an estimate of the state pension that you are likely to be entitled to at retirement age.
I bought a new build flat about 4 years ago in Dunfermline. At the time I got an interest only 100% mortgage. We are thinking of moving on the next couple of years but I think the property I'd worth 10-15k less than I paid. Is there any ways to get out of negative equity? I was thinking of keeping the flat if we buy something else and renting it. Would this be possible or would the mortgage company not allow it? Name withheld
The mortgage company would generally allow you to buy another property, as long as your personal circumstances allow, although you may have to change the terms of the mortgage on the property since the mortgage company will perhaps want to increase the rate of interest you pay to reflect the fact that it is now buy-to-let. And if you do this there may be tax implications for you as well since any rental income you receive is potentially taxable, although you are allowed to offset certain expenses you incur in connection with the property. If you are buying a second property without selling the first then you will of course have to find a deposit, so you will need to have some savings for this to work.