First-time buyers help boost monthly house sales by 21%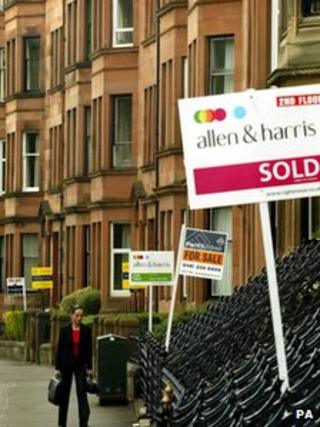 First-time buyers have helped boost monthly house sales in Scotland by one fifth, according to new figures.
The number of houses sold in July increased by 21% on the previous month, the latest LSL/Acad Scotland House Price Index has shown.
Buying a home in Scotland cost £145,622 on average, down slightly from June's figure.
The first-time buyer market is "moving more freely" than in England with sales up 9% so far this year, experts said.
The seasonally adjusted average house price fell 0.3% in July, the House Price Index showed, but of the 32 local authority areas, 12 have seen property prices rise over the year.
Clackmannanshire recorded the biggest increase, at 19.3%, to take the average cost to £141,704.
Edinburgh remained the most expensive area to buy a home at £224,754 on average, up £14,000 since July last year.
Gordon Fowlis, from estate agents Your Move, said it "had been easier for Scottish buyers to access mortgages this year".
'Below expectations'
He said: "Life for first-time buyers in Scotland has improved markedly this year.
"There have been 1,100 more loans to new buyers so far this year than in the equivalent period last year, which has helped push up activity throughout the whole market with July seeing 1,529 more sales than June.
"While it isn't all sunshine and roses just yet, first-timers in Scotland can at least take solace from the fact life is comparably better for them than their English and Welsh counterparts."
However Mr Fowlis warned that first-time buyer numbers still represented only 46% of the figure before the 2008 economic crisis.
Overall, average house prices in Scotland have fallen 0.5% on the same period last year but the number of transactions in July was up 7% on the same month last year and up 21% on June, the index showed.
Dr Peter Williams, chairman of analysts Acadametrics, said the number of transactions in June was "below expectations" and was partly due to the additional bank holiday and high level of rainfall.
He said: "The main factors which are currently affecting the market are the difficulties in obtaining mortgage finance.
"The lenders are looking for high deposit levels and sound credit ratings along with the uncertainties of the current economic climate, which do not help build consumer confidence.
"Given that we do not anticipate significant change in the banks and building societies lending requirements, we can only conclude that the housing market will continue to operate at half speed, with little change in house price behaviour from the first half of the year."