Scottish police clamp down on mobile use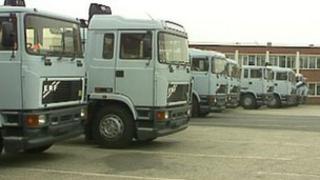 A crackdown on mobile phone use by professional drivers has been announced.
The Association of Chief Police Officers in Scotland (Acpos) and the Traffic Commissioner have signed a new agreement to tackle the problem.
The police in Scotland will inform the commissioner of offences committed by the drivers of lorries or buses.
The commissioner will then consider further action against individual drivers and their employers.
The plan has been backed by First Bus and the Malcolm Group.
Deputy Chief Constable Tom Ewing of Fife Constabulary, speaking for Acpos, said: "The use of communication devices such as mobile phones is distracting and dangerous, and the consequences of professional drivers carrying passengers or large loads losing concentration could be catastrophic.
"We are determined to clamp down on such use and welcome the support of the Traffic Commissioner and two industry leaders."
Traffic Commissioner for Scotland Joan Aitken said: "Police officers can issue a financial penalty. My powers are different. I can suspend a driver's licence entitlement to drive his or her lorry or bus.
"For some drivers this will mean they lose their job and how they support their families. It is that serious.
"I also look at why the driver was on the phone. I want to get a message across to drivers' families and friends, and also to employers, that the driver needs to concentrate on the job not on the phone."