Specialist heart operation made available in Edinburgh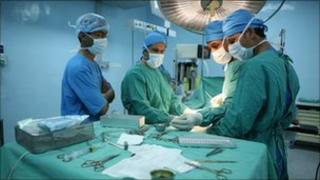 A specialist heart procedure will finally be made available in Scotland, years after it was introduced in NHS hospitals in parts of England.
Trans-catheter Aortic Valve Implantation (TAVI) will now be offered to patients at the Royal Infirmary of Edinburgh (RIE).
Until now patients have had to travel to England for treatment.
Cardiologists had argued that not enough Scottish patients were benefiting from the procedure.
TAVI is already available to patients on a case-by-case basis, with those who are considered suitable being referred by their local health board to an appropriate provider outwith Scotland.
If a patient is either not well enough for open heart surgery, or their heart and vessels are not suitable for aortic valve replacement, TAVI may be offered as an alternative suitable treatment option.
The procedure is less invasive.
'Life changing'
Dr David Farquharson, Medical Director, NHS Lothian, said: "We are delighted that the RIE has been chosen to host the specialist centre in Scotland for TAVI.
"It means that we will be able to provide life-changing surgery to scores of patients, who may otherwise have been unable to undergo a conventional open-heart operation.
"By replacing a heart valve in this way it will reduce the associated risks of the traditional surgery and boost quality of life for scores of patients from all over Scotland."
It is expected that the operation will be suitable for about 50 patients a year.
Health Secretary Alex Neil said: "There is a growing body of evidence regarding the effectiveness of TAVI, and that is why I am pleased to announce that we will now be able to provide this service in Scotland.
"Patients for whom a TAVI procedure is considered appropriate will now be able to access a Scottish service, instead of having to travel away for treatment."
The new service will be monitored over the next six to 12 months, and consideration will be given to introducing a regional model of service, or extending to two sites.