Call for Scottish teachers to have more holidays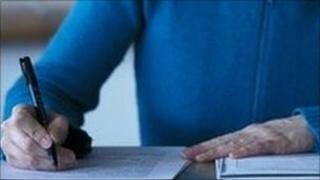 Teachers in Scotland should have longer holidays, according to a high-profile education figure.
The call came after the publication of an independent report which indicated that Scottish teachers have the fifth highest workload in the world.
Talks to revise teachers' employment contracts are also getting under way.
Carole Ford, former president of secondary head teachers' association School Leaders Scotland, said there was a need for longer holidays.
"Across Europe schools are basically closed through July and August," she said.
"In Scotland, they return mid-August. There is a law of diminishing returns in education.
"More and more of it doesn't necessarily mean it is better and better.
"It is a very high stress occupation and teachers need longer holidays to recuperate, refresh and be ready for the next term."
Highlighting academic results at private schools and countries such as Finland, Ms Ford said: "There is no evidence children would be disadvantaged by longer holidays.
"Perhaps they will be advantaged as teachers will be more rested and less stressed."
She was speaking after the publication of the Organisation for Economic Cooperation and Development (OECD) study.
It said teachers in Scotland spend 855 hours a year in class, compared to an international average of 704 hours in early secondary school.
The report also said the teaching load was "significantly heavier" than in England.
The OECD's Education At a Glance study, which looked at 38 countries, said pay in Scotland was relatively good.
Teachers earn 95% of the average graduate salary.
The international average is 82%, and pay in Scotland has increased in real terms by 21% over the decade.
Well paid
Primary teachers are particularly well paid, as they earn the same as colleagues teaching senior classes in secondary - who on average are paid 31% extra across the world.
The pay of secondary teachers in Scotland is the eighth highest in the world.
Pay here is unusual in that unpromoted staff reach the top of the scale (£34,200) after just six years.
The study points out that primary school teachers in England have to deal with larger classes, and that the workload in Scotland has dropped by 10% in the decade between 2000 and 2010.
The workload figure excludes time spent preparing lessons, attending meetings and marking pupils' work.
Primary teachers in Scotland are also unusual in not having more contracted hours than secondary staff.
The figures emerge during the early stages of negotiations to revise teachers' employment contracts following the McCormac review, which was commissioned by the Scottish government.
Better support
The EIS teaching union said: "This shows both the dedication of Scotland's teachers - who work many more hours than they are contracted to - and also highlights the workload pressure that teachers have to deal with in the course of their jobs.
"In an environment of budget cuts, falling teacher numbers and rising class sizes, local authorities and the Scottish government must look very closely at today's report and consider how they can better support Scotland's teachers and Scotland's education system."
The study confirms that the new curriculum for excellence is unusual in that individual schools have immense freedom, deciding on what subjects they teach, course content and design.
They are not subject to an overarching framework from local or central government.
The report states: "Only in Indonesia and Scotland are these decisions taken by schools with full autonomy."
Cosla, the umbrella body for local authorities, said teachers in Scotland have one third of their week - three times as long as their counterparts in England and Wales - for preparing lessons, correction and marking.
A spokesman added: "Teachers work incredibly hard to deliver and maintain high standards of education to children and young people in our schools and their welfare is important.
"However, Cosla believes that the package of current terms and conditions provides a good mix between pay, holidays and safeguards for the welfare of teachers, and we would not be advocating changes to these at this time."