Scottish athletes bring home 11 Paralympic medals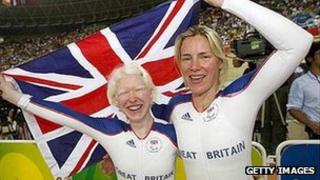 Scottish athletes won 11 of Great Britain's medals in the 2012 Paralympic Games in London.
Team GB finished the paralympics with 120 medals, 18 more than they won in Beijing four years ago.
Scottish sportsmen and women will bring home three gold, six silver and two bronze, which will be showcased at a parade in Glasgow on Friday.
Neil Fachie and Craig Maclean, as pilot to Anthony Kappes, won cycling golds and David Smith won a rowing gold.
The homecoming celebrations for both Olympians and Paralympians will begin with a parade starting from Kelvingrove Art Gallery and Museum and travel through the city centre to George Square.
First Minister Alex Salmond will then host a reception for athletes and dignitaries.
The six Scots taking home Paralympic silver medals were Aileen McGlynn, OBE, Karen Darke and Neil Fachie all in cycling events.
Sam Ingram took silver in judo, Stef Reid for long jump in the athletics and Libby Clegg also in athletics.
Aileen McGlynn also took a bronze in cycling, in the Individual Pursuit, while James Clegg won bronze in swimming, 100m Butterfly.
Scottish athletes contributed 14 medals to Team GB in the 2012 Olympics.
Sir Chris Hoy became the most decorated British Olympian of all time when he won another two gold medals.