Chris Hoy joins Edinburgh Sky Ride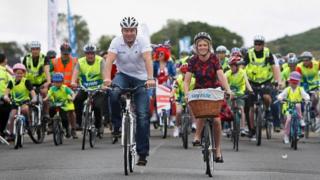 Olympic gold medallist Sir Chris Hoy and Radio One DJ Edith Bowman have been joined by thousands of cyclists for a traffic-free ride around Edinburgh.
The Sky Ride cycling event was taking place in Sir Chris's home town for the first time.
The 10km route took in landmarks and sights such as the Scottish Parliament, Holyrood Palace and Arthur's Seat.
The route was closed to traffic other than cycles for six hours to allow cyclists to ride at their own pace.
The event was part of Sky Ride 2012, a national campaign to get one million more people cycling regularly by 2013.
Organisers said about 10,000 people took to traffic-free streets to explore the capital, with many more coming out to watch.
It was hosted by British Cycling, Scottish Cycling and Sky, in partnership with the City of Edinburgh Council, and was used to encourage people of all ages and abilities to get on their bikes.
Sir Chris said: "It was fantastic being here in Edinburgh for Sky Ride today and great to see so many people in my home town riding their bikes and enjoying a really good day out.
"It's been an exciting summer for British Cycling and it's great to see that initiatives like Sky Ride are giving people an opportunity to get on their bikes and be inspired to cycle more regularly."
Sky Ride ambassador Ms Bowman, from Anstruther in Fife, said: "It was wonderful to see friends and families out on their bikes and getting involved in all the activities along the way."
Edinburgh City Council's festival and events champion Steve Cardownie said: "Given the many cycling successes at London 2012, today was the perfect time for us to be hosting the Sky Ride here in Edinburgh and I'm delighted that our residents got involved in their thousands to make the event such a huge success."
Sir Chris will be awarded freedom of the city of Edinburgh at a ceremony next Sunday.
It will make him one of the few living recipients of the award which is also held by the Queen, the Duke of Edinburgh, Sir Sean Connery, Nelson Mandela and Burmese democracy campaigner Aung San Suu Kyi.
On the same day, thousands of people are expected to welcome back Edinburgh's Olympians and Paralympians, as they travel through the city on an open-top bus.
The official victory parade for Scotland's Olympic heroes will be held on Friday in Glasgow, the host city for the 2014 Commonwealth Games.