Family nurse scheme extended to Lanarkshire and Highland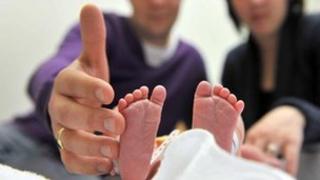 A US-inspired programme designed to get teenage mothers back to work and cut the number unintended pregnancies is to be extended.
The Family Nurse Partnership is to be rolled out in the Lanarkshire and Highland NHS health board areas.
New Health Secretary Alex Neil has identified "a high level of need" in Lanarkshire for NHS intervention amongst young first-time mothers.
Lothian, Tayside, Fife, Glasgow and Ayrshire and Arran already run it.
The scheme involves nurses visiting expectant mothers every one or two weeks and throughout the first two years of their baby's life.
The nurses offer guidance in areas such as child development, preventative health measures, parenting skills, breastfeeding, better diet information and on education and employment.
Mr Neil said: "The programme has been running in Lothian for two and a half years now and evaluation of the impact of the project so far has similar positive results.
"Intervening at the earliest possible opportunity to support those in our society who are most in need is the key to improving Scotland's health. That's why I am delighted that even more children and their parents are going to benefit from this programme.
"I am keen to work with all health boards across Scotland to prepare them for delivering the FNP programme in the future."
He said Highland was an area of Scotland which was pioneering the integration of health and social care.
In Lanarkshire, 250 families will be supported by 10 nurses when the programme starts later next year.
The average cost of the project is £3,000 per client, per year, with the programme lasting two and a half years.