Scottish teaching union EIS critical of music fees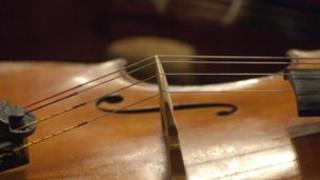 Scottish councils are making "profits" of almost £3m from fees charged to school pupils for instrumental music tuition, a teaching union has claimed.
The EIS said the figures it obtained through Freedom of Information showed pupils were being charged more than was necessary.
The union said the profits were used to "shore up" local authority budgets.
Larry Flanagan, of the EIS, said some children were being "charged a heavy price for developing their talent".
Figures obtained by the union are said to show that Aberdeen City Council generated £523,000 of additional revenue by charging 1,863 pupils up to £340 each for music tuition.
Highland Council took £435,000 profit by charging 2,513 pupils £252 each for tuition and exams, while Moray Council took £118,000 extra by charging 578 pupils up to £300 each.
Scotland's largest local authorities Glasgow and Edinburgh provided tuition for more than 9,000 pupils between them for free.
Mr Flanagan said: "It is incredible that, while some local authorities levy no charges at all for music tuition or charge simply to cover costs, others are charging pupils excessive fees and generating substantial profits into the council coffers."
He added: "Education should be about providing an equal opportunity for all to benefit and learn but, sadly, in the case of music instruction a small number of pupils are being charged a heavy price for developing their talents in music."
The EIS will present its finding to the Scottish Parliament's Education and Culture Committee on Tuesday.
'Limited circumstances'
The union's claims come amid developments in the teaching of music at Scottish schools.
On Friday it emerged that the number of school pupils taking music lessons in Dumfries and Galloway has fallen by almost a quarter since charges were brought in two years ago.
A total of 1,374 students enrolled this year - down 425 on the figure in 2010, when instrumental tuition was free.
An annual subscription fee of £130 was introduced in 2011, with a further £47 for instrument hire.
The education department said the charges imposed were below the average of other local authorities in Scotland.
The Scottish government said councils had a duty to provide adequate and efficient provision of school education in their areas free of charge.
A spokesman said: "This includes music lessons provided as part of that school education and in this way music should not be treated in a different way to English, maths, science or any other subject.
"There are limited circumstances where authorities can charge fees, and the Scottish government will make certain that there is full compliance with the law."
Phased out
Last month, Western Isles Council said it would re-examine a plan to phase out the use of visiting art, music and PE teachers in its primaries.
Comhairle nan Eilean Siar estimated it could save £512,000 by not filling vacant itinerant teacher posts.
Education committee chairwoman Catriona Stewart said the future provision of the teachers would be reconsidered as part of a wider budgetary process.
She said education would not suffer if they were phased out as many pupils played sport and music outwith school.