Art collection, including Mackintosh, sells for £1.3m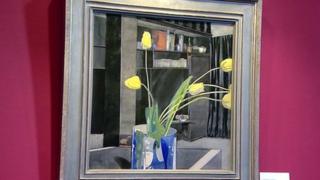 One of the largest collections of art by Charles Rennie Mackintosh and the Glasgow Four has sold at auction in Edinburgh for £1.3m.
The sale included work by Mackintosh's sister-in-law Frances Macdonald and her husband Herbert MacNair.
It also featured Glasgow contemporaries including Annie French and Jessie King.
The art belonged to American TV producer Donald Taffner and his wife who purchased it after meeting the then director of the Glasgow School of Art.
It was the first sale of its kind in Scotland since 1933.
The Mackintosh watercolour Yellow Tulips, painted in 1919, fetched £130,000 and will remain in Scotland.
An early watercolour by Frances Macdonald fetched £100,000.
A rare oil painting by Sir John Lavery of Shirley Temple was sold for £23,000.
'Packed auction'
A pair of mahogany card room chairs by Charles Rennie Mackintosh, made especially for his greatest patron Miss Cranston for her home in Glasgow, went for £46,000.
John Mackie, from auctioneers Lyon and Turnbull, said: "Donald Taffner and his wife Eleanor had no connection to Scotland whatsoever before they met the director of the Glasgow School of Art in the 1980s.
"I think they loved the story of Mackintosh and his colleagues struggling against the art establishment to establish their style in Glasgow, the second city of the empire at the time.
"I think that really captured their imagination."
He added: "It was a fantastic atmosphere in a packed sale room with many of the bidders flying in from the United States and Europe, some leaving their private jets at Edinburgh International Airport.
"Although some lots were sold abroad I am pleased to say that many will remain in Scotland."