More older patients 'likely to have undiagnosed dementia'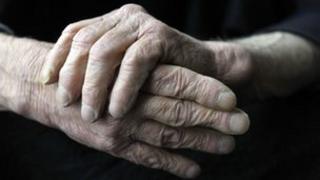 Older people being treated in Scottish hospitals are more likely to have undiagnosed dementia, a study by doctors has found.
The Royal College of Physicians of Edinburgh (RCPE) found dementia was present in 25% of all in-patients.
Of that number, about half of them - an estimated 1,600 people - do not know they have it, the study found.
RCPE has now called for medical training to change in order to diagnose the condition.
The organisation said undiagnosed dementia can result in inappropriate care and an increased length of hospital stay.
Statistics also showed that dementia was present in around 40% of in-patients aged over 70.
'Increasing burden'
The RCPE's Alasdair MacLullich, professor of geriatric medicine at the Royal Infirmary of Edinburgh, said: "The diagnosis and assessment of dementia presents a major challenge to medical staff in hospitals who until recently have not needed to be trained in its diagnosis and treatment.
"Medical training must evolve in line with the evolving dementia epidemic to ensure that medical staff are trained in diagnosing, assessing and treating dementia.
"Additionally, there must be sufficient numbers of trained doctors to cope with this increasing burden of disease."
Henry Simmons, chief executive of the charity Alzheimer Scotland, said: "We greatly welcome this focus on improving the rates of dementia diagnosis in Scotland's hospitals.
"There have been some significant improvements made to NHS training, however, this still relies on staff being aware that the person in question has dementia, which is currently difficult unless they have an existing diagnosis.
"It is only with a diagnosis that we can ensure not only more appropriate hospital care but also offer better information, advice and community-based support for the person and their family."