Money for Scottish food and drink firms ahead of 2014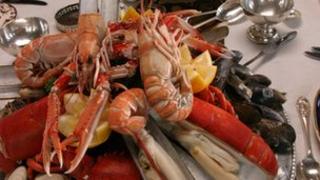 One million pounds of Scottish government money will be used to help promote food and drink firms before a series of showcase events in 2014.
The Commonwealth Games, Ryder Cup and the second Year of Homecoming are all being held in Scotland that year.
The government wants food and drink producers to use the events to promote their produce around the world.
Funding will support the implementation of the Food and Drink 2014 Action Plan, a partnership with industry groups.
The government is working with enterprise agencies, Event Scotland and industry body Scotland Food and Drink.
'Best opportunity'
Rural Affairs Secretary Richard Lochhead said: "There will be unprecedented opportunities to showcase the magnificent produce Scotland has to offer.
"However, it's vital that companies prepare in advance to give themselves the best possible opportunity to reap the rewards on offer."
Scotland Food and Drink chief executive James Withers said: "This funding is a pivotal step towards achieving our ambitions for 2014.
"Our showcasing of Scottish food and drink at the Olympics last month was an insight into what we can achieve.
"However, the hard work for 2014 starts now, we are developing a programme of work with food and drink businesses of all sizes so they can seize the opportunities over the next two years."