Annie Lennox discovers 'pauper' past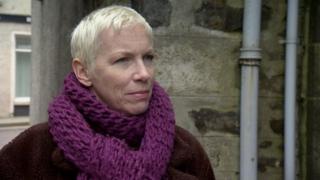 The fight against poverty and disease in Africa has been a major part of singer Annie Lennox's career since she rose to fame in the 1980s.
Her global success, first as a member of Eurythmics and later as a solo artist, has taken her away from her Aberdeen roots but for the BBC TV programme Who Do You Think You Are? she discovered that poverty - both rural and urban - also featured heavily in her own family's past.
The 57-year-old singer and humanitarian campaigner discovered two women who were left to make their own way in the harsh conditions of 19th Century Scotland.
She also found out more about her grandfather and grandmother's time on the Royal estate at Balmoral.
William Ferguson worked as a gamekeeper at the Aberdeenshire estate from the age of 16 and in the 1920s he met his wife-to-be Dora, a dairy maid.
Annie's aunty Biddy told the singer how her grandfather was such a good dancer he was chosen to waltz with the future King George VI's wife, the present Queen's mother, at the ghillie's ball.
Lennox recalled being close to her grandfather William, who died when she was nine.
She said: "The first time I ever ate salmon was a fish my grandfather had caught in the River Spey.
"My grandmother grilled it for me with a bit of butter. It was the most extraordinary flavour. I have never forgotten that. I don't think anything has ever matched it since."
The singer concluded that William's outdoor life, attending to stalking deer and grouse on the country estate at Balmoral, was "excellent in many ways" but she found it was in stark contrast to the struggles of his grandmother, Isabella McHardy.
She had been brought before the Kirk session, a group of church elders who policed the moral wellbeing of the community in Braemar, to be admonished for having a child out of wedlock.
Eight years later in 1860 Isabella was back before the Kirk session for a second illegitimate pregnancy.
This time she had appeared voluntarily and told the elders that the man in question had broken his promise to marry her.
Isabella, who was illiterate, later came back again seeking financial help to pay for her first son George's education.
She struggled to bring up two children in a tiny cottage near Braemar, where she made a living as a poultry keeper but despite the hardship she lived to be 83, qualifying for the newly-introduced old age pension in 1908, shortly before her death.
Annie said: "It is a hard life underscored by poverty."
The singer said she must have been a strong person who brought up her children as a single mother, followed by "many decades of living alone up here in the hills".
On the other side of her family Annie found her great-great grandmother Jessie Fraser, who was born in 1847 in the Aberdeenshire town of Banff.
Her father died when Jessie was three and the 1851 census lists her mother Mary as a "pauper".
Further digging shows that Mary was the illegitimate child of a local solicitor, who continued to live a life of luxury just streets away from his unacknowledged daughter.
Annie said: "It tells you it is acceptable for a man of a certain class to sire children out of wedlock, have his own life with his servants and his own family but the others are like mongrels. It's fine, you don't have to have too much responsibility for them."
Jessie, one of five children, was five when her mother died and she was sent to live with her natural father's sister.
But she was not welcomed into the family, instead she seems to have been made to work and was released at the age of 10 when Mrs Cruickshank had "no further use for her".
"This little girl Jessie, you don't feel that at any point there is anyone loving her or taking care of her at all. It is just rough," said Lennox.
"There is no love there. Mrs Cruickshank kicked her out - a child of 10. The whole thing is very dark. It's a very Victorian melodrama to me."
Overshadowed with tragedy
By 13, Jessie was in Aberdeen as a flax mill worker, in a mill close to where Annie later grew up.
Broadford Flax mill was round the corner from where Annie lived until the age of eight.
Jessie would have been full-time by the age of 13, working 10 hours a day for six days a week in one of the biggest textile mills in Scotland, which employed more than 2,000 hands.
The story of Jessie's struggle seemed to have improved when she got married and left the mill to have children in her 20s but Annie discovered that Jessie died at the age of 35 in 1885.
She said: "I would like to think her husband was kind to her and they had a better life but it is pretty overshadowed with tragedy."
Before discovering her past Lennox described her family as "working class" and said "no-one had been born with a silver spoon".
Following her finding she said: "There are two kinds of poverty. Rural poverty and urban poverty.
"I am wondering which is the better poverty and I am thinking, neither.
"Poverty is just ugly stuff at the end of the day. It is really tough."