Emma Thompson says Peter Rabbit 'made me write book'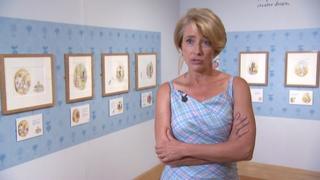 Oscar-winning actress Emma Thompson has said Peter Rabbit asked her to follow in the footsteps of Beatrix Potter and write a story about his adventures.
Thompson was at the Scotland Street School museum in Glasgow, which is staging an exhibition dedicated to the famous bunny.
She read from her latest book, The Further Tale of Peter Rabbit.
It is the first authorised sequel to Beatrix Potter's original story, published 110 years ago.
The Nanny McPhee star said: "I don't think I would have dreamt of stepping into Potter's footsteps unless I was asked the way I was asked - by Peter Rabbit.
"I got a box with Tartan on it and inside there was a couple of half-eaten radishes and a little letter.
"It said he'd heard I was bit cheeky, that he was getting on in years, and he wanted another outing."
Thompson, who has won Oscars as an actress and a screenwriter, said she was "so entranced" she said "ok".
The mischievous character of Peter Rabbit first ventured into Mr McGregor's garden in 1902.
The new book takes Peter to the Highlands where he meets Finlay McBurney, a distant Scottish relative.
Thompson said Potter was very attached to Scotland and spent her summers in Perthshire.
The actress also spends lots of time in Scotland, where her mother comes from, and where she herself retains a home.
Thompson said: "I thought Peter's never been to Scotland and Mr and Mrs McGregor could well be Scottish.
"I thought he ought to have an adventure up north, so I did."
Holding hands
She said she thought Potter was a "great writer".
"It is what she leaves out that is so special and the fact there is darkness and even terror to be had and yet also very safe, very loving and nurturing as well," she said.
Thompson said reviving Peter Rabbit was "continuing a tradition, holding hands with someone I have always revered".
Exhibition curator Sara Glenn said: "Beatrix Potter was an extraordinary storyteller, illustrator and artist, and the exhibition will give a new audience the opportunity to view her original work.
"Emma Thompson's new adventure adds an exciting chapter in the story of one of the world's best-loved children's characters, and I am pleased we can include so many of Emma's own materials in the display."
The exhibition runs from 1 September to 24 February.