First new Police Authority and Fire Service chairmen appointed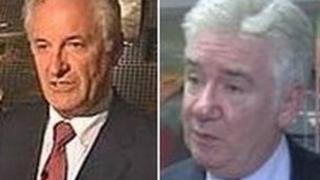 The first chairmen of the new Scottish Fire and Rescue Service and the new Scottish Police Authority (SPA) have been announced.
Pat Watters, former President of the Convention of Scottish Local Authorities (Cosla), will chair the the new Scottish Fire and Rescue Service.
Vic Emery OBE has been appointed as the first chairman of the new SPA.
He is currently convener of the Police Services Authority and Scottish Crime and Drug Enforcement Agency.
Justice Secretary Kenny MacAskill said: "As well as excellent knowledge of policing in Scotland through his current role, Mr Emery also has significant experience of leading large, complex organisations.
"He has demonstrated the ability to focus on key strategic issues and address them.
"Mr Emery will play a pivotal role at the heart of Scotland's new policing landscape, providing strategic leadership and direction as well as holding the Chief Constable to account."
Smooth transition
Both appointments will be for three years and will run from September 2012.
Community Safety Minister Roseanna Cunningham announced the appointment of Pat Watters as Scottish Fire and Rescue Service chair.
She said: "Mr Watters has demonstrated strong experience of delivering change, not least from his time as COSLA President, and this will provide invaluable to help ensure a smooth transition to the new service.
"He also recognised the importance of strong accountability and strategic governance, as well as understanding the role of a strong Chair in challenging and supporting the Chief Officer.
"His experience in public life, as well as his leadership and communication skills, will be crucial in shaping the new service."
Mission Impossible
Lewis Macdonald, Scottish Labour's justice spokesman, said: "Kenny MacAskill resisted amendments throughout the progress of the Police and Fire Act which would have guaranteed members of the Scottish Police Authority had experience of local government and represented the whole of Scotland.
"In appointing Vic Emery as the first chair of the Scottish Police Authority, Kenny MacAskill has chosen a candidate with the relevant experience but someone who is also seen as an insider.
"It is now all the more important that other board members do represent local government. I would also like to welcome Pat Watters to his role."
Commenting on both appointments, leader of the Scottish Liberal Democrats Willie Rennie MSP said: "I wish Pat Watters and Vic Emery well in their new roles.
"But the task they have been handed by Kenny MacAskill, to retain locally focussed services while the justice secretary grabs all the power to the centre, is mission impossible.
"People want police and fire services to be laser focussed on local needs, not subject to political control from ministerial offices."