Silver screen inspires violinist Nicola Benedetti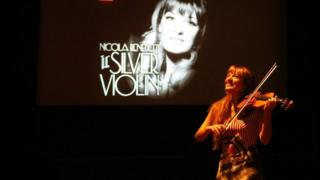 One American music critic is said to have described Korngold's violin concerto as "more corn than gold", but Scotland's superstar violinist Nicola Benedetti is an unabashed champion of the composer and his work.
The Austrian emigre composer, often credited with creating the lush symphonic sound of Hollywood's golden age, has had a revival in fortunes in recent years.
Benedetti is such a fan that her love of his music became the starting point for her new album.
Korngold wrote his first orchestral score at the age of 14 and had a major international success with his opera Die tote Stadt at the age of 23.
He moved to Hollywood in the 1930s, became a pioneer in composing film scores, and was responsible for two Oscar-winning films.
Benedetti, from West Kilbride in Ayrshire, told BBC Scotland's Movie Cafe that Korngold had lived in a "highly-intellectual" environment in Vienna. When he emigrated to the United States he applied that to something that he thought was useful - writing music to suit films.
The 25-year-old violinist said: "There was a lot of stigma and reservations about a composer who was so eclectic and so varied and who was actually trying to break down the barriers.
"But he said that whether it was a film or an opera, it was all depicting an emotion."
Korngold's Violin Concerto, which was not a film score, takes up about 25 minutes of Benedetti's new album of music inspired by the silver screen.
She also includes two arias from his opera Die tote Stadt.
"The idea for the album is Korngold's music, that's the concerto and the two arranged arias, and everything else has either been written for film or used in film.
"One decision we made early on was that we weren't going to pick my favourite film music and play it on the violin.
"It was going to be only music written originally for the violin. So that did narrow down the choices."
The disc begins with the theme from Schindler's List, written by John Williams, "probably the most famous violin music ever written for film".
Benedetti, whose career took off at 16 when she won the BBC Young Musician of the Year, says: "The film score was originally recorded by one of the greatest violinists of our time, Itzhak Perlman, and he very much brought to the forefront of the classical music world the music of John Williams and film music.
"It was a key moment, the idea of an extremely serious classical soloist endorsing that style of music."
Another track is Mahler's Piano Quartet, used in Scorsese's Shutter Island.
"I just love that when a director decides to feature great classical music that is already in existence," Benedetti says.
Benedetti says she gets lots of requests to play on soundtracks, but it is difficult because her schedule is set years in advance and the performance is often put together quite late in the film-making process.
However, she did record the original soundtrack for David Cronenberg's Eastern Promises and she has re-recorded the concertino for this CD.
Totally different
Coming up for Benedetti is a prestigious appearance at Last Night of The Proms and a major tour of Australia, New Zealand and Asia.
This comes after a summer which included appearances at the Edinburgh International Festival and Scotland's largest pop music festival, T in the Park, which she described as "absolutely extraordinary".
Benedetti says: "I thought it would be somewhat similar to the likes of Proms in the Park, but it was just totally different.
"Such an electric, vibrant, young, pop-orientated feel.
"I could not believe that all those people about to listen to McFly and Keane were able to take in and have the peace and attention on classical music, which was not what they were expecting.
"They were receptive and really kind and had a great time."