Renewables firms to compete for £10m Saltire Prize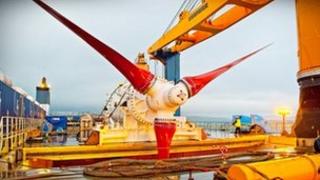 Four renewable energy companies which will compete for the £10m Saltire Prize have been named by Scottish ministers.
The competition was set up to encourage the development of wave and tidal energy devices in Scottish waters.
ScottishPower Renewables, Aquamarine Power, Pelamis Wave Power and MeyGen will each attempt to produce the most electricity over a two-year period, using only the power of the sea.
Projects will be launched off Lewis, in the Pentland Firth and Orkney waters.
The latest phase of the contest will run until 2017.
The announcement was made by Deputy First Minister Nicola Sturgeon in Orkney, where members of the Scottish Cabinet will meet on Wednesday.
Ms Sturgeon also announced plans for a Saltire Prize-sponsored doctorate to study how marine energy projects can maximise economic energy production while protecting the environment.
She said: "With the European Marine Energy Centre (EMEC) in Orkney hosting an array of devices, we should not lose sight of how far this vibrant young industry has come in recent years.
"The Saltire Prize sets a considerable challenge to competitors - reflecting the huge potential of harnessing marine energy.
"The four competitors have stepped up to the challenge, and in so doing can drive each other still further and faster forward, towards the goal of large-scale commercial electricity generation from the power of the world's seas and oceans."
MeyGen's chief executive, Dan Pearson, said: "The bar set by the Scottish government for this prestigious award is a high one. The challenge requires highly efficient devices, and a high level of resource and robust technical capability that is comparable to conventional renewable energy power stations."
Hornung Pedersen, the boss of the Edinburgh-based firm Pelamis, said: "Pelamis was delighted to be the first official applicant for the Saltire Prize and we're working intensively to deliver the robust commercial technology required to win it, and through that the compelling 'win-win' of renewable energy generation and industrial opportunity that this sector represents for Scotland."
Aquamarine Power chief executive, Martin McAdam, said the prize would act as a "global catalyst... bringing together the best brains and financial muscle to crack one of the great challenges of our age".
Alan Mortimer, head of innovation at ScottishPower Renewables, said: "The demonstration projects being developed now will be crucial in helping us achieve larger commercial projects."
As well as announcing the doctorate and the companies vying for the Saltire Prize, Ms Sturgeon also launched a junior Saltire Prize photography competition called The Power of the Sea, with renowned Scots photographer David Eustace among the judges.
And funding of £2.5m was pledged for a £9.2m pier plan for Stromness on Orkney.
The Copland's Dock development will see construction of a new 100m pier and associated access road.