Whooping cough outbreak warning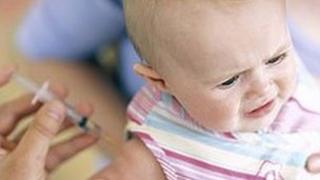 Scotland is experiencing the worst outbreak of whooping cough since the 1980s, according to health chiefs.
GPs have reported 873 cases so far this year, compared with only 36 for the same period last year.
Five babies have died elsewhere in the UK from the disease since the current outbreak which began at the end of last year.
Health Protection Scotland (HPS) stressed the importance getting young babies vaccinated against the illness.
The disease can affect people of all ages, but its symptoms are generally most serious in very young infants.
The coughing fits associated with the disease can be so severe in babies that the supply of oxygen to the brain is cut, potentially with fatal consequences.
No fatal cases of the disease have been recorded in Scotland so far this year.
Dr Martin Donaghy, health director of HPS, told BBC Radio Scotland that a rise in whooping cough cases had been expected as the disease has a three-year cycle.
But the scale of the current outbreak - which has also been seen in many other western European countries - was greater than had been anticipated.
He added: "It is the worst we've seen for some time. The group most at risk are infants, particularly very young infants under three months of age - that is where the disease does most damage.
"There certainly seems to have been a tipping point whereby a large proportion of the population are not immune and the germ is now spreading, particularly through the adult and adolescent population."
'Chronic coughing'
Babies are given the whooping cough vaccination in three doses when they are two, three and four months old, with take-up of the inoculation reaching a record 98%.
But Dr Donaghy explained: "The problem is that the immunity the inoculation brings starts to wane as you get older, and it diminishes to such an extent that it no longer provides sufficient protection."
He said a range of options were being looked at in a bid to cut the number of cases, including vaccinating adolescents, pregnant women and healthcare workers.
Dr Donaghy said the disease was often not diagnosed in adults.
He said: "There are many other causes for chronic coughing in an adult which are much more common, so as is usual you go for the common things first and then eventually we'll think maybe it will be whooping cough.
"It is really making sure that an infant gets the first dose of the vaccine at eight weeks - no wait, get it in at eight weeks and don't delay after that."
The main symptoms of the disease are severe coughing fits which are accompanied by a "whoop" sound as children gasp for breath.
Before routine vaccination were introduced in 1957, whooping cough outbreaks in the UK were on a huge scale. The disease could affect up to 150,000 people and kill 300 in a single year.