The unusual venues of the Edinburgh Festival Fringe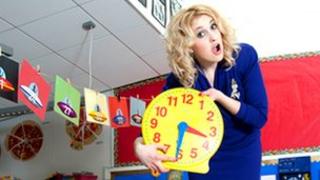 A working office, an allotment, a school, a cafe and on top of a Routemaster bus.
These are all venues at this year's Edinburgh Fringe Festival.
With more than 20,000 performers in town - traditional venue spaces are at a premium.
The solution for some acts has been to take their shows outside the four walls of conventional theatre - to keep costs down and to make sure they stand out.
However, there are also artistic merits to performing 'site specific' theatre.
Mark Fisher, author of the Edinburgh Fringe Survival Guide, says it is all down to providing a unique experience for both performers and audiences.
He said: "In an era when we're surrounded by televisions and computers and computer games and very individualistic ways of entertainment - one of the things that theatre can do is bridge all of those walls that get erected by pre-recorded media."
Birdwatching
Holly Rumble is performing her show One Minute Birdwatching in Princes Street Gardens - the public park in the shadow of Edinburgh castle.
Twice a day she will be joined by audience members to spot birds for 60 seconds. Whenever they see a bird, they shout its name if they know it, or 'bird' if they do not.
Ms Rumble said: "It's a very short audio survey of the birds that are in one particular site at one particular time.
"I have done recordings in the past where there has been one solitary bird for the whole minute but then everyone puts a lot of gusto into that one phrase, which is lovely."
The Hunt and Darton cafe is a pop-up cafe in the centre of Edinburgh. It looks and sounds like a normal cafe, but customers might get more than a cup of tea and a biscuit.
The cafe's creators - Jenny Hunt and Holly Darton - have made an interactive performance space and aim to blend live art with the everyday in this fully-functioning cafe.
Back to school
Back to school is set in a community centre in Edinburgh. It aims to foster the nostalgia of school days - with the audience members acting as students and the cast taking them through lessons, assembly and even examinations.
The play's artistic director Clementine Wade said: "Back to school is about taking the audience and making them the stars of the show, bringing them back to school - whizzing them through seven years of education in an hour and a half."
This year's Edinburgh Festival Fringe guide is once again filled with these unusual venues - and many more.
Conventional theatre spaces are there too, but it is the quirky venues which catch the eye and have become synomous with that slightly elusive essence - the spirit of the Fringe.