Scottish charity Sciaf praises African drought response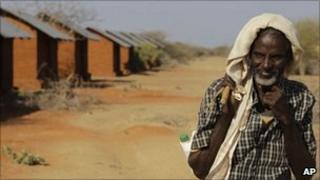 A Scottish charity has said it raised more than £1m from Scotland to tackle last year's drought in the Horn and East of Africa.
The Scottish Catholic International Aid Fund (Sciaf) described the drought as the worst in the region for 60 years.
Communities in Ethiopia, Kenya, South Sudan, Somalia and Eritrea were affected. Ten million people were put at risk.
Sciaf said the result of its appeal enabled it to help some 183,000 people.
In a report on the work carried out in the past year, the charity said its emergency aid included food and water rations.
It organised food for work programmes in Ethiopia and Kenya to allow able-bodied people to access food and money to buy essentials such as medicine.
Lorraine Currie, Sciaf's head of international programmes, said of the funds raised in Scotland: "This money and the emergency support it provided saved the lives of thousands of people.
"Whilst the drought has now passed and the acute need of the people has dropped, Sciaf is continuing to work with its partners and local communities to increase their resilience against future droughts by distributing drought resistant seeds and rehabilitating community resources such as ponds and wells."