Golden success for Olympic Scots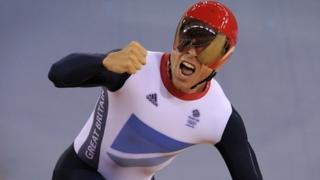 Scottish athletes are celebrating after further Olympic success at the London games.
Cyclist Sir Chris Hoy won gold in the team sprint - his sixth Olympic medal in total, and fifth gold.
Fellow Scots Tim Baillie won gold, and David Florence silver, in the canoe slalom C2 event. Both are from the Aberdeen area.
Scottish hopes for more success on Friday rest largely with rower Katherine Grainger.
Thursday's success for Scottish Olympians followed Lossiemouth rower Heather Stanning winning gold alongside Helen Glover in the women's pairs on Wednesday, the same day as Glasgow-born Michael Jamieson won silver in swimming's 200m breaststroke final.
Sir Chris, from Edinburgh, and teammates Jason Kenny and Philip Hindes powered to gold by beating France in a world record time of 42.600 seconds.
The medal represents Sir Chris's fifth gold, matching rower Sir Steve Redgrave's British record of Olympic titles.
Sir Chris also won a silver medal at the Sydney Olympics in 2000.
Early starter
Minister for Sport Shona Robison said Sir Chris had confirmed his status at Scotland's greatest-ever Olympian.
She added: "Huge congratulations to Sir Chris and his teammates on achieving a gold medal and a new world record today, this is just the icing on the cake of all he has done for sport in Scotland and for Team GB.
"With an astounding number of medals under his belt, Sir Chris is truly living up to his title of Scotland's greatest ever Olympian, and deserves his place as one of Team GB's most successful athletes. He has, once again, done Scotland proud and is an inspiration to all of us."
Scotland's other gold medallist on Thursday, Tim Baillie, was born and raised in Westhill.
An early starter when it came to kayaking, he began paddling when he was aged just four, encouraged by his parents who were both keen canoeists with Aberdeen Kayak Club.
Derek Thompson, the head teacher at Westhill Academy, Baillie's old school, expressed his joy at the former pupil's achievement.
"Staff and pupils at Westhill Academy are very proud of what Tim has achieved," he said.
"We were all very pleased when we heard he had been picked for the Olympic team and are now delighted at the news that his hard work and dedication have been rewarded with a gold medal.
"It is a fantastic personal achievement for him, and I hope it will also act as inspiration for others at the school."
After school, Baillie moved south to attend Nottingham University, where he was also able to train at the National Water Sports Centre.
Baillie and partner Etienne Stott, ranked sixth in the world, produced an error-free run to take a surprise win at Lee Valley.
David Florence, from Aberdeen, and Richard Hounslow won silver in the same event.
Aberdeen's Lord Provost George Adam said: "On behalf of the city I would like to congratulate our Olympic heroes Tim Baillie and David Florence.
"To be chosen to represent your country is a tremendous achievement in itself but to see these two homegrown talents clinch gold and silver in the same event is fantastic and a wonderful inspiration to everyone in the city.
"I wish all our athletes the best of luck for the remainder of the games, particularly Aberdeen's Katherine Grainger as she bids to win a well-deserved gold tomorrow".