Shelter bids to recoup 'illegal' letting agent fees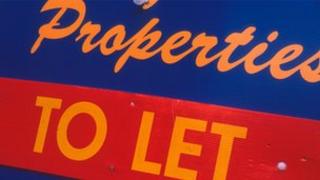 Housing charity Shelter Scotland said more than £100,000 could be repaid to private tenants who have been charged unlawful fees by letting agents.
Its special website launched in May was helping people to a claim.
The charity said agents had charged for a number of services - even though to do so was illegal in Scotland.
So far, 870 people have started proceedings for repayment of "premium fees" including charges for arranging duplicate copies of a lease.
Shelter Scotland launched its website to give private sector tenants advice on what they could and could not be legally asked to pay before they took up a lease.
Under the Rent (Scotland Act) 1984, agents can legally charge rent in advance and a reasonable deposit.
But Shelter said it had uncovered evidence of tenants asked to pay fees for services including;
carrying out credit or reference checks
checking and preparing an inventory
and for arranging duplicate copies of a lease.
Shelter's Scottish director, Graeme Brown, said: "That over 800 people sought advice in only two months to try and reclaim £100,998 of unlawful fees further consolidates our belief that some letting agents are routinely ripping off tenants by charging extortionate and unjustified upfront fees."
Rachel Smith in Edinburgh is one tenant who is challenging a letting agent over her fees.
She and her partner, Christopher, were charged a £250 non-refundable "holding fee" for the flat they wanted, along with £210 in agency fees.
These had to be paid in a lump sum to secure their flat on top of £1,275 rent in advance.
After she challenged the fees as illegal, the letting agents agreed to waive the charges.
Ms Smith said: ""Moving house is a stressful and expensive business. The last thing you need is letting agents adding extra costs on top.
"I would encourage anyone who has been charged unlawful fees by a letting agent to claim their money back."
Mr Brown has called on the Scottish government to clarify the law.
He said: "We want the Scottish government to explicitly clarify legislation to make it clear to tenants, landlords and their agents that all charges above rent and a reasonable deposit are unlawful.
"Only then will tenants, and indeed landlords, be assured that they are not being exploited."
The government is currently consulting on changes to the law, with an announcement expected by the end of August.