Quarter of intensive care patients 'have drink problem'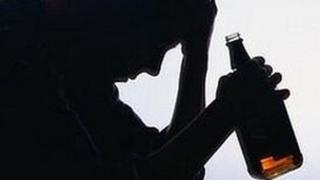 A quarter of patients who end up in intensive care in Scotland have drink problems, most with chronic alcohol disease, a survey has said.
The study of 771 patients across all 24 intensive care units put the cost of caring for them at about £9m a year.
The work, published by the Anaesthesia medical journal, said many young and less well off people were affected.
The Scottish government has already decided to bring in minimum drink pricing and cut drink drive limits.
They are part of a number of measures created to tackle Scotland's historic problems with alcohol-fuelled violence and other health issues.
Timothy Geary, an anaesthetic registrar at Glasgow's Victoria Infirmary, said: "Alcohol disease adversely affects the outcome of critically ill patients and the burden of this in Scotland is higher than elsewhere in the UK."
Dr Geary, who co-wrote the report, carried out by the Scottish Intensive Care Audit Group, added: "In Scotland, the frequency and volume of alcohol consumed is significantly higher than in the rest of the UK, as is the proportion of people with hazardous drinking habits.
"This corresponds to higher death rates, particularly for Scottish men, but only indicates a fraction of the deaths attributed to alcohol."
The study said that:
Of the 771 admissions, 83% were unplanned, 25% were alcohol related and 22% of the patients had chronic alcohol disease.
A third of alcohol-related admissions were "acutely intoxicated" at the time of admission.
Patients admitted with alcohol-related problems were significantly younger than those admitted without alcohol problems - 51 compared to 63.
71% of patients with alcohol-related issues were men, compared with just over 50% of the non alcohol-related patients.
The Scottish government and parliament has made tackling alcohol problems a priority, and became the first part of the UK to bring in a minimum price per unit of alcohol, set at 50p.
Ministers have also banned "irresponsible" drink promotions at off licences and brought forward a public health levy on large retailers which sell tobacco and alcohol.
The drink-drive limit in Scotland is also being lowered from 80mg of alcohol per 100ml of blood to 50mg, after the powers to do so were devolved from Westminster and Holyrood.
Anaesthesia is the official journal of the Association of Anaesthetists of Great Britain and Ireland.