Edinburgh Legionnaires' outbreak: Third death reported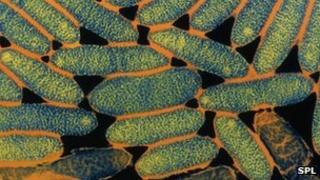 The Scottish government has said that a third person has died in the Legionnaires' Disease outbreak in Edinburgh.
The man, from south west Edinburgh, was in his 60s and had been unwell for some time.
The total number of cases now stands at 99, 50 of them confirmed and the remainder suspected.
Ten patients are being treated outside the NHS Lothian area and three people remain in intensive care.
Investigations into the source and cause of the outbreak are continuing. Although no not yet identified, experts believe the source to have been factory cooling towers in the south of the capital.
Lothian and Borders Police and the Health and Safety Executive are jointly investigating the circumstances of the deaths under the direction of the Crown Office and Procurator Fiscal Service (COPFS) Health and Safety Division.
Health Secretary Nicola Sturgeon said her thoughts were with the family and friends of the latest person to have died.
She added: "Despite this sad and tragic news, is important to stress that strong evidence still suggests that all cases are associated with the suspected period of exposure and that the outbreak has peaked.
"I repeat the message that anyone in the affected areas suffering from symptoms since the outbreak began should contact their GP or the NHS 24.
"NHS Lothian are maintaining high quality care for patients who remain unwell and work to identify and deal with the source of the outbreak continues."
Dr Christine Evans, Consultant in Public Health Medicine confirmed that a small number of cases or suspected cases were still coming forward.
But she said she wanted to reassure the public that such patients had typically been ill for some time and had links to the south west of Edinburgh.
The first case of Legionnaires' Disease emerged on Thursday, 31 May, after one individual was admitted to hospital the day before.
A second case emerged on the Saturday, with an assessment throwing up a close geographical link between the cases.
After a third case emerged on Sunday lunchtime, with another an hour later, outbreak procedures were activates.