Taking flight to Skye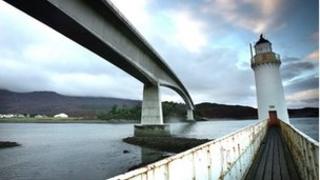 It's six hours drive between the Isle of Skye and Scotland's central belt, where major markets start for the island's businesses.
It's a beautiful drive, if you've got the time and inclination. Or a fantastic rail journey, if you have even more time, and if you have ways of getting round Skye (and there's a lot of it) without a car.
But it's an expensive way for Skye people to do business. It's even more of a problem when much of the island's economy depends on getting tourists to travel to Skye from those big markets.
They're making the journey this weekend, as the school holidays begin. But it's a short season to make money. And from what I heard on a visit there this week, the season has been contracting.
Some blame the lack of businesses' spare resource to spend on shoulder season marketing. Of course, there's also a likely cutback in household budgets for that extra holiday each year.
But the strong theme running through discussions with business-people on the island was the lack of an air link.
Shirley Spear, owner of the world-renowned Three Chimneys Restaurant near Dunvegan, told me the issue has been handled "disastrously", and cites road links that are outdated and "a disgrace", particularly compared with her competitor destinations across Europe.
She points out a Skye air service would also benefit Lochalsh and Wester Ross, while improving local access to distant public services, such as hospitals.
Broadford to broadband
No other major island is so hard to reach. Orkney, Shetland, Tiree, Islay and the Outer Hebrides (times three) have scheduled routes.
Skye's were stopped in the 1980s, when subsidy was withdrawn. Memories of that were of poor connection times with other flights, serving only to depress passenger numbers.
And as it now has a bridge connecting it to the mainland, plus two railheads, Skye has not been seen as a priority. One of those railheads, at Mallaig, continues to link the Cal-Mac ferry to Armadale on the Sleat peninsula, though it is now under Scottish government review, with a document currently up for discussion that doesn't make good reading for the service's future.
There has been some work done recently on the case for air, including a ward-level council meeting last week, discussing the need to update the figures on upgrading the airport near Broadford.
With a short landing strip, it either limits the planes to Twin Otters, which have gone out of production in Canada, or it would require a runway extension. Since the airport was last regularly used, safety and security standards have risen substantially.
It isn't made any easier by having some very big Cuillin mountains nearby.
But what about the seaplane operating from the Clyde to destinations in Argyll in recent years? Isn't Portree the ideal destination for a regular service?
Don't forget that since the business case was last assessed, the economy has tanked. The demand for tickets has to be re-assessed, but local hoteliers aren't in much doubt that they can drum up some numbers.
Skye the Brand
Another theme running through my discussions with those in business on Skye (for the Business Scotland programme on BBC Radio Scotland) was the lack of a Skye brand. Others, notably in Orkney, have developed a branding for quality produce. So why not Skye? No-one knows, but several sound a bit exasperated by it.
* I heard from Angus McRuary at the Isle of Skye Brewery, a a former business studies teacher at Portree High, since when he became a pioneer of the current enthusiasm for micro-breweries. He has big seasonality issues: he runs close to full capacity during summer, and down to only quarter of that in winter. While he adds some local berries to his brews, bringing in the main ingredients and sending out produce from Uig is a costly business with fuel costs so high.
* I heard from Barry and Liza Hawthorn, South Africans who set up the Isle of Skye Baking Company in 2007, who pointed out the problems of distance when deliveries aren't quite what you expected. You can't just go round to Tesco to make up for it. You have to keep higher stock levels, and you can call on other businesses to help out if they can, both with ingredients and with distant deliveries. Using an old Portree woollen mill, they supply local hotels with artisan bread, and they've opened a cafe and art gallery, they have found the off-season has worked better for them than expected, through Christmas sales of shortbread and oatcakes.
* Peter Fowler, who runs Sea-fari wildlife-spotting trips run from Mallaig and Armadale, is feeling the pain of fuel prices, and says he's seen the season contracting. There is contract work for the small isles through the leaner months, and he has customers coming from the Sleat peninsula's high end boutique hotels. But he says there's more need for the industry to work together.
* That's amplified, at the other end of the island, by Shirley Spear. Tourism, she says, is a business for everyone. This first dawned on many people when foot and mouth disease hit hard, more than a decade ago, but there's a still a need for a seamless approach. "Once people make the effort to get to Skye, the welcome and the experience has got to be absolutely superb, and we still let people down in little nooks and crannies." She has a special loathing, however, for the TripAdviser website. Every little slip-up in service is pounced upon. That's partly because of high expectations. It isn't cheap, and since being named one of the world's top 50 restaurants by Restaurant Magazine ten years ago, Three Chimneys attracts uber-foodies. It employs 40 people, and it's just been through an investment programme to upgrade and "future-proof" the business, as Shirley Spear looks to retirement, 28 years after starting out.
* In his tele-croft at the foot of MacLeod's Table mountain, and next to a converted byre designated by the Guardian as one of Britain's ten coolest cottage getaways, Tim Davies runs Skyewebsites with his designer wife Blair Hunter. He's one of those working to connect Skye businesses to the world by broadband. At the Skinidin township, his broadband is as much as five times faster than clients just down the road. And having previously worked in York, he says the business has changed significantly, as clients accept there's less need to eye-ball their advisers, except by Skype. He used to be on the road three days a week, but not now, with his clients as far-flung as Norway.
* At the far end of the Glendale peninsula, Ian Blackford, a business consultant who has been investor relations director for a Dutch-based food industry giant, finds his speeds are at the wrong end of the spectrum. Formerly a senior figure at Deutsche Bank, he argues there's a need for Skye not only to match the speeds found in urban centres, but the need for competitive advantage suggests it should be faster. That would help with video-conferencing, he points out, to avoid the long road miles he has to take in the absence of air links.
* At the more innovative end of the business spectrum, while selling the most basic of commodities and human needs, I also heard from Nanette Muir, of Isle of Skye Sea Salt Company, a business start-up that's yet to reach the market. Salann na Mara is 'salt from the sea' - the most northerly known example of sun-dried sea-salt. Not much dries under the Skye sun, even in this unusually dry summer, but from 9,000 litres of shallow water in each polytunnel near Skeabost, you can evaporate it and recover about 250kg of salt within three weeks, at least from April to October. She praises the Interface organisation that helps small businesses link with universities, in her case with Robert Gordon's in Aberdeen. It had expertise to help with eco-packaging, and may yet help with renewable energy inputs to keep the process going for a longer season. "Skye's got a good brand name, strong identity internationally, particularly with its natural environment," Muir says. "We're surrounded by sea water, and it seems quite an obvious thing to have a go at."
You can listen to BBC Radio Scotland's Skye special edition of the Business Scotland programme on iPlayer until 8 July, and by free download.