Creative Scotland apologises for 'anxiety' caused by arts funding shake-up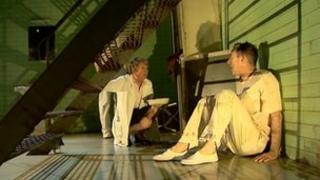 Creative Scotland's chief executive Andrew Dixon has apologised to arts organisations for causing anxiety during a recent funding shake-up.
Some 49 groups - including the Scottish National Jazz Orchestra and the Edinburgh Mela - were told by letter that their regular funding would end next spring.
They would then have to apply for money for one-off projects.
The move sparked an angry reaction from the arts community - including actor Alan Cumming and playwright David Greig - who feared the new scheme was unsustainable and unlikely to be delivered in time.
Now, in a partial climbdown, Mr Dixon and Creative Scotland chairman Sir Sandy Crombie have written to every arts organisation affected to apologise.
They said: "While we remain committed to the strategic direction, we acknowledge that some adjustments would be beneficial.
"The concerns have substantially, although not entirely, been about the speed of the change, which has been over-ambitious and we apologise that this has inadvertently caused anxiety among a number of arts organisations regarding their future.
"We accept that some of our communication on future funding has not been as clear as we would like."
Although Creative Scotland will still go ahead with its strategy - which coincides with a £2m drop in government funding - it will delay the deadline for applications for six months, allowing organisations extra time for paperwork and to source alternative funding.
Organisations and individuals who took to Twitter to protest have welcomed the apology and the acknowledgment of the need for better communication.
'Do-or-die applications'
David Greig said: "The concerns were never about the speed of change, they were about the principles behind it.
"But it's good that dialogue seems to be opening up. I hope the organisations are listened to."
Another arts administrator said: "I don't think anyone has had time to think about it. Most organisations are just firmly focused on do-or-die applications."
Another added: "It seems like a cynical move to get good PR in the wake of some bad coverage.
"The central issue remains unaddressed. What criteria will Creative Scotland apply when cherry picking the best of an organisation's work?
"And where will the money come from - the government or the lottery?"