Old nappies turned into furniture under new recycling scheme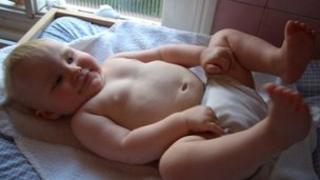 Used nappies will be turned into garden furniture, roof tiles and railway sleepers under a new recycling scheme being trialled in Scotland.
Each year some 160 million nappies are sent to Scottish rubbish dumps.
But four councils are to trial a kerbside collection scheme for 36,000 homes across Fife, Stirling, Perth and Kinross and North Lanarkshire.
The pilot will run for an initial six months to establish whether it can be rolled out nationwide in the future.
As well as disposable nappies, incontinence products and other related items - like wet wipes, nappy sacks and cotton wool - will also be suitable for the recycling collection.
Jenny Sim of Zero Waste Scotland said babies used an average of 4.16 nappies per day, with more than 90% using disposables.
Reusable nappies
She added: "The average child in Scotland goes through 4,000 nappies before they're potty trained, which is an awful lot going to landfill.
"The local authorities in the pilot areas will be collecting the waste, they'll send it to a big treatment unit where the waste is heated up to 125 degrees to sterilise it and clean it.
"The human waste is put to sewage, and the plastics and celluloids are then converted into useable products such as park benches, road signage, railway sleepers and decking.
"It does make it so much easier for parents in these trial areas to do their bit and help the environment and help recycling in Scotland."
Sheila Sangster, who has been a childminder in Stirling for 27 years, said it was "frightening" to think how many thousands of nappies she had sent to landfill over that period.
Mrs Sangster said she believed the recycling scheme could change the way people viewed the debate between disposable and reusable nappies.
'Step forward'
"To use disposable nappies is so much more convenient for mums, so to have a scheme like this where they know that their nappies are not just going to lie in a landfill for hundreds of years - I think people will take up the opportunity to recycle them.
"You've got all these (recycling) boxes already, so one more is not going to make any difference.
"Also, it's going to be picked up weekly instead of lying in your bin for two weeks. As you can imagine, in the summertime that's not pleasant."
Environment Secretary Richard Lochhead said: "Disposable nappies, although convenient, do have a huge impact on the environment with a staggering 450,000 ending up in landfill each day in Scotland.
"This innovative new scheme is a fantastic step forward for recycling and makes it easier for parents to do their bit for the environment.
"It's great that new technologies allow us to recycle even more materials. In this way, we can reuse our waste and treat it as a valuable resource with the potential to boost our economy."