Oxford University offers £22,000 to Scottish students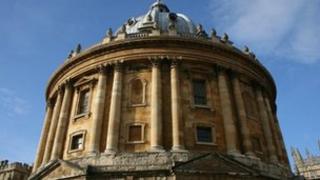 Oxford University is to provide up to £22,000 of financial support per student from Scotland in a move to encourage more applications.
Those from low income families will be eligible to apply for a mix of bursaries and fee waivers.
The university has no legal obligation to make the financial support available to Scots.
It is believed to be one of the biggest no-strings-attached packages on offer at any English university.
From this October, Scots students at most English universities face fees of £9,000 a year.
They do not have to begin paying off fees until they have completed their degrees and are earning at least £15,795 a year, but the fees are likely to deter applications as Scots pay no fees at all at Scottish universities.
Baroness Helena Kennedy, a Glasgow-born lawyer who is now Principal of Mansfield College, urged more Scots to consider submitting an application, including those at state schools.
She said: "In tutorials the ratio of tutors to students is 1:1 or 1:2 which surpass expectations anywhere else. The demands that are made of you prepare you for anything else in life.
"I want to make sure these opportunities are not the preserve of the elite. I want these opportunities to be available to the brightest and best everywhere.
"I want Scots teachers to be aware we have the best financial support system to help pupils get these chances."
Baroness Kennedy said college staff offered extensive support: "In my college 84% come from state schools. We're not talking about being surrounded by privileged backgrounds.
"Quite a few of the tutors come from comprehensive schools too so feel very committed to making these opportunities available to those from similar backgrounds."
All students with family incomes below £16,000 are eligible for the maximum support of £22,000 over three years, and all students with incomes below £42,600 are eligible for some support.
The university expects a quarter (2,500) of all students to get some form of support. An estimated one in ten undergraduates will get the maximum support.
The Oxford package offers bursaries to provide applicants with upfront living costs and it offers fee waivers to encourage those who might be discouraged by the prospect of £27,000 of debt.
The maximum bursary from Oxford of £4,300 in the first year of study is enough to comfortably cover accommodation costs of £3,700.
Career prospects
A successful application for support does not affect eligibility for the separate bursaries and loans on offer from the Scottish government.
University leaders suggest a degree can be an investment, as research indicates graduates have good lifelong careers prospects.
As degrees in England are generally over three years, compared to four years in Scotland, students face one less academic year of living expenses, estimated at £7,000.
If students are successful in securing work shortly after graduation, they also gain an extra year of a graduate starting salary of about £23,000.
Over 280 Scots applied to study at Oxford this year. Just over 50 were successful.
Applicants are expected to have three Advanced Highers or A levels for the degree course.
But many state schools in Scotland do not offer a broad range of Advanced Highers so the university says it will consider applicants who obtain in sixth year AA in Advanced Highers and an A in an additional Higher.
Many applicants already had 5 As at Higher, an achievement of 2.6% of all Higher candidates.
Against a backdrop of fees which have almost tripled, this year 9.3% (3,975) of Scottish university applicants applied to English universities, a drop of 1.4%.
Kingussie High, Lochgilphead Joint Campus, Fettes College, Madras College and Ullapool High are among the Scottish schools that have seen pupils go on to Oxford in recent years.
NUS Scotland president Robin Parker said: "Oxford is entirely right to be offering bursaries and support to Scottish students in the same way as they would to students from England, Wales and Northern Ireland.
"Other English institutions should follow suit to ensure that the eye wateringly high fees imposed by the Westminster government can be reduced for those from the poorest backgrounds.
"However, lets not forget the fact that even Scottish students at Oxford that will receive these bursaries, will still be paying tens of thousands of pounds for their degree. The challenge for Oxford is to now recruit students from the poorest backgrounds so that this offer of support can be taken up."