Alex Salmond: Affection for Queen 'undiminished and strong'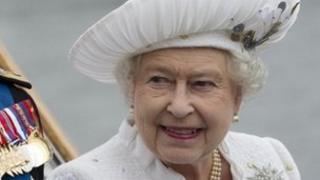 Alex Salmond has said affection for the Queen in Scotland is "undiminished" and "strong", despite comparatively muted Jubilee celebrations.
The first minister said the difference in the intensity of celebrations in Scotland reflected a "different style".
Mr Salmond also said Scots should adopt the Lion Rampant flag to mark the Jubilee rather than the saltire.
He made the comments ahead of attending a thanksgiving service at London's St Paul's Cathedral.
Speaking to BBC Scotland, Mr Salmond said Scots would have the opportunity to show their affection for the Queen during Royal Week in July.
"Maybe there's a different style in Scotland from elsewhere, but certainly our affection for the Queen is undiminished and just as strong," he said.
"We get another chance with this, maybe another two chances - during Royal Week in July when the Queen is in Scotland and then again with the Jubilee Tattoo at the castle in August.
"We get several bites at this cherry, so maybe there's just a difference in the way people celebrate things in Scotland, but our deep affection for Elizabeth, Queen of Scots, is nonetheless very powerful and very strong."
'No conflict'
Mr Salmond said the Queen would continue to reign over Scotland should voters opt for independence in the upcoming referendum.
He said: "Clearly for people, Scottish identity is becoming more and more powerful.
"There's no conflict between that and having respect for Her Majesty, because Her Majesty will be Queen of Scots after independence and there's no difficulty in that."
The first minister said that adopting the Lion Rampant to mark the Queen's Diamond Jubilee would be more appropriate.
He said: "Obviously people are very proud of the saltire but the flag that should be being flown in Scotland, in my view, is the Royal Standard, which is the Lion Rampant, which is very much in many senses the people's flag as well as the monarch's flag in Scotland.
"So my advice to any budding entrepreneur out there is to produce more Lion Rampants. I think you'll find a very willing market."
The four-day holiday for the Diamond Jubilee has brought a string of events in Scotland to mark the Queen's 60-year reign, including street parties, other local community activities and a 21-gun royal salute at Edinburgh Castle.
Beacons were also lit on hilltops across Scotland, including one on the peak of Ben Nevis on Monday.
Jubilee fever even struck the chimpanzees at Edinburgh Zoo, where they were given specially themed Jubilee snacks.