Scottish population reaches record high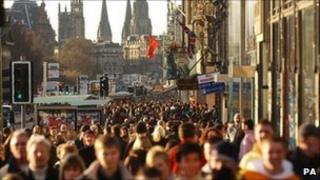 Scotland's population reached its highest ever level last year, new figures suggest.
The National Records of Scotland said the number of people living in Scotland was 5,254,800 by June 2011.
The figure rose by 32,700 on the previous year, representing the highest annual increase in more than 50 years.
Immigration accounted for the bulk of the rise, although there were also 4,800 more births than deaths registered over the period.
According to the data, 27,000 more people came to live in Scotland compared with the number that left. That figure includes 25,400 from overseas as opposed to people from elsewhere in the UK moving to Scotland.
Registrar general for Scotland George MacKenzie said: "Scotland's population has reached its highest ever."
He added: "Fewer people came to Scotland from the rest of the UK than in recent years - a net gain of 2,900.
"But the net gain of around 25,400 people from overseas was the highest since current estimates began in 1991-92."
Edinburgh saw the highest population increase at 1.9%, followed by Aberdeen and Midlothian at 1.5%. Perth and Kinross saw a similar rise at 1.2%.
By contrast, the number of people living in Inverclyde fell by 0.7%, while in Moray the population fell by 0.5%.
The data also showed that there are more women living in Scotland than men, with the figures sitting at 2,706,600 and 2,548,200 respectively.
The registrar general said the figures were likely to be revised once information collected from last year's Census was taken into account.