'The day I met the Queen'
The Queen is celebrating 60 years as monarch in 2012.
Many Scots have met the Queen in the course of her official engagements. From Amman in Jordan, via the royal household and back to Scotland itself, here are just five of their stories:
Galina MacNeacail, Edinburgh 2008
Galina MacNeacail met the Queen in July 2008, at the opening of Queen Margaret University in Edinburgh.
Galina, who is now 14, says: "I was part of a speech therapy programme there, for children with Down's syndrome. I was chosen to meet Her Majesty.
"I decided to wear my favourite colour, which was pink, and my special pearl necklace. The Queen was wearing a pink outfit and pearls too."
"The Queen watched me doing speech therapy. She was in a room next door, looking through a window. I was sitting with my speech therapist at a computer. I was using an electronic palate, which showed different patterns on the screen when I made different sounds."
"I met the Queen afterwards. I was excited, because she's a character in one of my favourite books - The BFG by Roald Dahl. I told my mum I would say 'Hello, your Majister', like the BFG, but my mum said I shouldn't. So I just said, 'Hello, Your Majesty'. The Queen asked me if I found it interesting working with the electronic palate. I said 'Yes, I did, your Majesty'."
James Nelson, Amman, Jordan 1984
In 1984, Paisley-born James Nelson was a member of the Army, working in the British Embassy in Amman, the capital of Jordan.
He became part of the team which planned the Queen's state visit to Jordan that year. He liaised with the Queen's press secretary, Michael Shea, and other members of her close personal staff in the run-up to the visit and accompanied her during her four-day stay in Jordan.
"It was a wonderful occasion. Being presented to both the Queen and Prince Philip was a great moment both in my life and that of my late wife, Louise."
"It was hugely exciting for our seven-year-old daughter, Laura Anne, who met the Queen on arrival at our Ambassador's residence and presented her with a posy of flowers, hand-picked that morning in the Jordan valley."
"The Queen spent a couple of minutes chatting, learning about the flowers she was accepting. Later, in the line-up, she told us we had a lovely charming young daughter. It was a special moment."
Eighteen months of planning went into the state visit. Tight security meant that some children had been disappointed with having only a fleeting glimpse of the Queen.
"Before going to the Jordan valley she asked to go to the International Community School. King Hussein drove her there and the two couples spent some time strolling around the playground chatting to the children, the majority of them British, and very excited. The Queen then asked the headmaster to give the children the rest of the day off and he agreed."
Mr Nelson thinks she has been "a wonderful Queen, but there have been many moments where, for some of us, we have witnessed small moments where she was a lovely mum who cares and has great interest in people".
Sandra Macdougall, Greenock 1958
In July 1958, Sandra Macdougall was chosen to present a bouquet to the Queen when she visited Greenock.
Sandra's sister, Donna, says "We have never forgotten the event and were extremely proud. The sun was shining that day and we all had a wonderful time."
Sandra entered a Greenock Telegraph competition to be Gala Queen and to present the bouquet. Following interviews, she was chosen and her dress designed by the then chief constable's wife, Mary Williamson, who was a neighbour.
The dress was pale pink with a big bow at the back and she also wore buckskin shoes and gloves.
Donna remembers: "When the Queen arrived, Sandra walked out to present the bouquet. All we could hear was the cheering of the crowd. We remember practising the curtsey for weeks; myself, my sister and my mother."
Sandra's mother was with her at the reception, with the rest of the family watching alongside the hundreds of people gathered outside the Town Hall.
Memories of the reception for both sisters remain strong, particularly since, as Donna says "a lovely meal of salmon was served. Sandra remembers this very well as she does not like salmon!"
James Mills, member of the Royal household, 2001 - 2006
James, from Clarkston in East Renfrewshire, worked in the Royal Household as a trainee butler and footman between 2001 and 2006. "Before joining the palace I had briefly worked in a chicken processing factory," he said.
"One day I saw a job advert for the post of royal butler in a local newspaper and I applied. I didn't receive a response after a month so I assumed that I had been unsuccessful."
"A few months later, someone from the palace called my home. My mother answered. She thought it was hoax call and hung up. When the palace called again, my mother put down the receiver."
"When I arrived home, she told me that some of my friends were playing a prank on me, saying that I had been offered a job interview to work for the Queen. I immediately called Buckingham Palace, apologised profusely, did the interview and thankfully got the job."
"It was a live-in post, and I frequently met members of the Royal Family, who treated staff in a relaxed and friendly manner. During my four years of service I was mainly based at Buckingham Palace, but I also spent parts of the year at other royal residences such as Windsor, Balmoral and Sandringham.
"Trainee butlers and footman are the most junior members of the royal household, but it was still a privileged position.
"Our benefits included food and board as well as opportunities to travel with the Queen and her entourage on overseas tours. I travelled to Australia, Nigeria and Malta, which was incredibly exciting.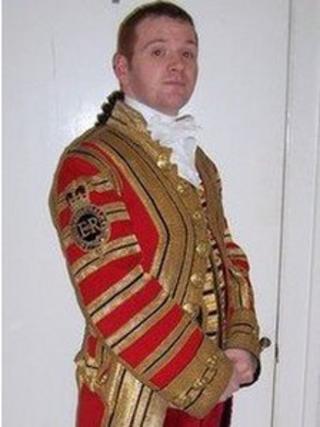 "I was also responsible for helping to set, serve and clear royal meals, for the valeting of guests and serving drinks at state banquets. It was a regimented way of life."
"When the Queen held banquets for high-profile guests everything had to run with military precision. I remember on one occasion catering for President George W Bush, who is often described as being a little slow on the uptake but I remember him being polite and approachable."
"In 2005 the Chinese President Hu Jintao arrived in the UK for a state visit. His personal security detail insisted on inspecting every room in the palace, including the Queen's private rooms, which no-one was allowed access to. It nearly caused a diplomatic incident but diplomacy prevailed and disaster was averted when a translator arrived and explained that the Queen's private rooms were strictly off limits.
"Being discreet and maintaining confidentiality at all times was a crucial part of working in the royal household. I frequently entered rooms where The Queen and Prince Philip were present, collecting and delivering tea, coffee and breakfast trays as well as newspapers to Her Majesty, her family and visiting dignitaries.
"When I started at the palace there was a very relaxed atmosphere but that all changed when security was breached and the Daily Mirror reporter Ryan Parry got a job as a palace footman."
"Although no-one within the royal family mentioned it, we all felt that when they had private conversations it would be appropriate to leave the room until we were summoned again, either when they rang a bell or called the staff on the intercom. Sometimes I feel a little nostalgic about the old days."
"Since leaving the palace, I have worked for The Duke and Duchess of Northumberland at Alnwick Castle; where Hogwarts in Harry Potter is filmed. This year I have been offered a position as butler and valet to Crown Prince of Qatar."
Elizabeth Nurthern, Glasgow
Elizabeth's experience must be typical of many close encounters with the Queen.
"I remember the queen coming to Glasgow I must have been around four. I was with my great-grandmother. We all waved at the car."
"When the Queen waved back my granny said it was because she knew my name was Elizabeth too. I believed it for quite a few years!"