Call to challenge Scottish minimum alcohol price plan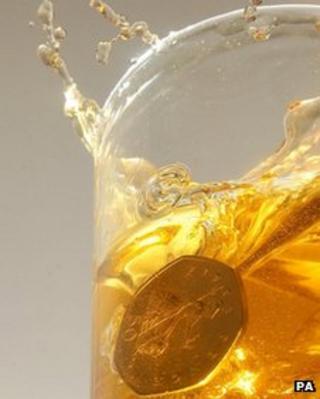 The EU has been urged to contest Scotland's plans for a minimum price per unit of alcohol.
The Scottish government wants to establish an alcohol cost of 50p per unit in a bid to tackle the country's drink problem.
The Conservatives, who back the move, have called for the proposal to be challenged to ensure a quick decision on whether it meets free trade rules.
The Scottish government said minimum pricing does comply with European law.
The Alcohol Minimum Pricing Bill will enforce a 50p per unit floor price on units of alcohol, pushing up the cost of cheaper, stronger drink.
It is expected to clear the final parliamentary hurdle in a vote at Holyrood on Thursday.
Sunset clause
Conservative health spokesman Jackson Carlaw said: "This is not an attempt to thwart the bill but rather to ensure that every effort is made to determine whether the measure is legal."
The EC might not give a ruling unless there is a challenge from one of the 27 EU member states, said Mr Carlaw.
He added: "So, to ensure that the EC expresses a view, Scottish Conservatives intend to meet and encourage concerned member states to mount a challenge so we can have clarification from Europe on the legality of a 50p unit price for alcohol."
A so-called sunset clause on the bill was secured by the Tories to gain their backing, meaning the policy could be ditched in six years if it does not work.
Mr Carlaw will travel to Brussels next month for a series of talks with industry figures and politicians from member states in Europe.
Legal action could then be launched within a window of three to six months, he said.
A Scottish government spokesman said: "Minimum pricing of alcohol does comply with European law, provided it is justified on the basis of public health and social grounds."
The SNP also questioned whether Scottish Labour and Labour at Westminster could take different stances on the policy, with the possibility of them abstaining at Thursday's vote.