Call to teach second language in Scots schools from P1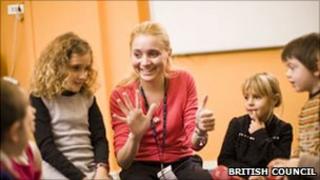 A new report has said children in Scotland should begin learning a second language as soon as they start school.
The study, commissioned by the Scottish government, called for a "radical change of approach" in language learning.
The proposals put forward would see all children learning a second language from primary one, rather than primary six when most children currently start.
The plans are likely to be piloted in a dozen schools across Scotland.
'Multi-lingual world'
The recommendations - made by the government's Modern Languages Working Group - also suggest that children should learn a third language no later than P5.
To increase its support for language learning, Scotland's National Centre for Languages (SCILT) is to receive increased funding totalling more than £600,000 in 2012-2013.
The minister for learning, Alasdair Allan said: "The world is changing rapidly and radically and the government has a duty to ensure that Scottish schools prepare young people so they can flourish and succeed in the globalised, multi-lingual world we now live in.
"One indisputable aspect of modern life is that more people travel widely for jobs and leisure and we must respond accordingly; we will not be as successful as a country and economy if we remain essentially a mono-lingual society."
Ministers have signed a voluntary EU agreement to make the changes outlined in the report.
However, the full proposals are as yet un-costed and could face hurdles because of the high costs associated with training language teachers.
Lloyd Anderson, director of British Council Scotland, welcomed the report.
He said: "Scotland needs globalised citizens who can go out confidently on the world stage and win business to grow Scotland's exports.
"Language learning is a vital part of creating that outward-looking mindset."