Scottish Album of the Year shortlist announced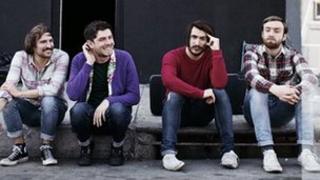 The 10 titles short-listed for the Scottish Album of the Year award have been announced.
Among the artists vying for the award are Mogwai, Mungo's Hi Fi and public vote winners Twin Atlantic.
Also nominated for the £20,000 prize are collaborations by King Creosote and John Hopkins, and Bill Wells and Aidan Moffat.
The Scottish Album of the Year (Say) prize is a new award billed as the equivalent of the Mercury Music Prize.
The winning album will be unveiled at a ceremony in Glasgow Film City on 19 June, and will receive a prize of £20,000.
The 10-strong shortlist is made up of nine artists chosen by a panel of judges, along with Free by Twin Atlantic - which won the public vote.
Caroline Parkinson, director of creative development for Creative Scotland, said: "The Say award is a fantastic recognition and celebration of Scotland's rich and diverse musical talent, as this shortlist confirms.
"We are a nation of music lovers, the award is a brilliant way to connect these music lovers with our talented artists.
"Even better that the public, in this the Year of Creative Scotland 2012, have had a say in the shortlist."