Forced marriage campaign targets mosques in Scotland
By Poonam Taneja
BBC Asian Network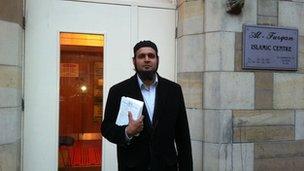 A Muslim scholar has launched a groundbreaking campaign against forced marriage in Scotland.
Shaykh Amer Jamil says the practice has no place in Islam.
During the next few weeks leaflets and sermons are being given in mosques as part of an initiative to educate the community.
"In the Muslim community there's a misconception amongst some people that religion allows this, that parents have an Islamic right to choose partner of their children, and that they don't have a choice in this," says the Glasgow-based Imam.
Every week he receives calls, e-mails and texts from concerned young people at risk of being forced to marry against their will.
Today is no exception. In a corridor of a Glasgow building, he speaks to a distressed young woman in her early 20s. Her parents are busy planning her wedding to a man she barely knows and does not want to marry.
"It's another typical case," says Amer Jamil.
"She's saying her parents are not listening to anyone, they're not listening to her brothers or the grandparents. They've given her an ultimatum now, either she does what they say, or she leaves the house."
Mr Jamil wants to make parents aware that this is morally, ethically and religiously wrong.
In 2011 around 35 cases of forced marriage were reported in Scotland, but experts believe that many more go unreported.
While there is a long standing tradition of arranged marriages in Muslim communities - that have the consent of those taking part - forced marriages can involve kidnapping, physical and mental abuse.
Although the majority of victims are women it also affects men.
I spoke to a young, successful businessman in the city.
Last year relatives in Pakistan forced him into a marriage against his will while he was there on holiday. It was to protect the family's honour, which is why he does not want to be identified.
"There was a guilt factor about the image it would leave in the family. The relationship it would leave my mum and dad with the elders in Pakistan forced me into doing something I would never have done otherwise," he says.
"It's certainly an issue within our society and community," he adds.
He believes community attitudes need to change, and that is exactly what Shaykh Amer Jamil is hoping to do.
On a drizzly evening outside the Al Furqan Islamic centre in Glasgow, worshippers leave the building after sunset prayers.
Amer Jamil hands them leaflets, along with fellow campaigner Razi Mohammed.
So far mosques have responded well to the campaign.
"The mosques are embracing it, working alongside the Shaykh," says Mr Mohammed.
"We need to overcome this cancer that's in our community.
"There is oppression here and Islam is totally against any type of oppression no matter what it is," he adds.
Shaykh Jamil believes that it is time for religious leaders like himself to educate the community that forced marriage is not allowed in Islam.
"The only thing that can break a cultural norm for Muslims is the religion," he explains.
"So when you come down and say in Islam the prophet was against this practice, nobody can argue with you," he says.
Shaykh Jamil admits it is a position that has made him unpopular with more traditional elements of the community.
"You're seen as a troublemaker. But there's a responsibility to young people who are suffering."
Last November, the Scottish government introduced the toughest forced marriage laws in the UK.
The Forced Marriage (Protection and Jurisdiction) Act was the first legislation in the UK to make it an offence to breach a forced marriage protection order.
However, campaigners say that legislation alone is not enough. Sumraina Akram wants more Imams to speak out against forced marriage during Friday sermons.
"If we can get the Imams on board - everyone respects the Imams - the grandfathers will go into the mosque and listen to the Friday sermons and they will take it on board, so education is the way forward."
That view is shared by young people I spoke to at the University of Glasgow.
"What this campaign does is make people aware what a forced marriage is," says one medical student.
Another student believes it sends out a powerful message to parents.
"We all want to force our way onto other people at times but you can't, if you believe your child is old enough to get married then respect their maturity by allowing them to marry as adults and don't force things onto them," he says.
The campaign is backed by the Scottish government and will be rolled out across the main mosques in cities including Edinburgh, Inverness and Dumfries.