Vets in Scotland train to spot domestic abuse victims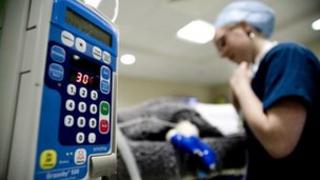 Vets in Scotland will be trained to spot signs of abuse in both animals and their owners, in a bid to help victims of domestic violence.
The Domestic Abuse Veterinary Initiative (DAVI) has been developed by six charities including Medics Against Violence (MAV) and Crimestoppers.
It aims to give vets the preparation to spot the "golden moment" to help victims when concerns are identified.
Britain's Got Talent judge Alesha Dixon has backed the project.
She said: "The mistreatment of animals is something that should concern all of us. Individuals who hurt and neglect animals are often likely to hurt and neglect other people.
"Increasingly we hear about ever more terrible cases of abuse and neglect, and it is time for zero tolerance towards those who harm animals, but also for more initiatives to prevent this violence in the first place."
The other charities involved are Links Group, OneKind, the Pet Fostering Service and the Violence Reduction Unit.
DAVI follows on from MAV's domestic abuse dental initiative, which has trained about 500 dentists across Scotland.
MAV founder Dr Christine Goodall said: "Like doctors and dentists, vets often build strong relationships with clients over years of visits. This makes them ideally placed to spot signs of abuse not only in an animal but also in their owner.
"Yet on the whole, like dentists, vets are unprepared for this situation. The training we are offering helps them take advantage of a 'golden moment' to intervene and help."
MAV said research and clinical evidence increasingly suggested links between the abuse of children, vulnerable adults and animals.
Dr Freda Scott-Park, chairwoman of the Links Group, said: "Over the years we've seen a growing number of cases where animals have been used as a way of manipulating and controlling victims of domestic abuse.
"The threat or actual abuse of a pet can often prevent women from leaving situations of domestic abuse. By training vets to be aware of the signs of animal and domestic abuse, we can hopefully support those who are suffering towards getting help."
The initiative was launched at Glasgow University vet school's small animal hospital.