Alex Salmond 'willing' to talk to Jeremy Hunt on BSkyB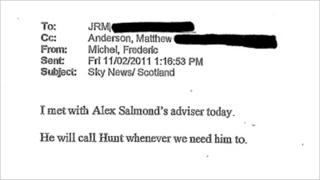 The Scottish government has confirmed First Minister Alex Salmond had been willing to call UK Culture Secretary Jeremy Hunt over BSkyB.
But it said the conversation, about News Corporation's bid for full control of satellite broadcaster BSkyB, did not ultimately take place.
Opposition leaders have called on Mr Salmond to make a statement at Holyrood about the affair.
The first minister has denied any wrong-doing.
Mr Salmond said he had agreed to speak to Mr Hunt in order to lobby for jobs and investment in Scotland - "a legitimate" position, he added, for his government to have.
The first minister told the BBC: "I thought Scottish interests should be taken into account at some point in the deliberations [of BskyB] that had to be made by UK secretaries of state. Far better to do it on that basis than to do it on the politics of whether they liked or didn't like Rupert Murdoch.
"I would have been delighted to articulate that position if the opportunity had presented itself. As it turned out the opportunity didn't present itself through a combination of circumstances."
News Corp chief James Murdoch told the Leveson Inquiry into media standards on Tuesday that Mr Salmond's adviser - which has now been revealed to be Geoff Aberdein - had agreed a call would be made to Mr Hunt "whenever we need him to".
Mr Murdoch was being questioned over links between News Corp, which is owned by his father Rupert, and Mr Hunt while the media company was seeking approval for the BSkyB deal.
Mr Hunt, a Tory MP, had been given the quasi-legal job of deciding BSkyB's fate. He is facing calls to resign amid a row over contacts between his office and News Corporation over the bid.
Mr Murdoch claimed Mr Salmond had offered to be supportive as a "Scottish politician and leader", and said Mr Hunt's advisers had told News Corp to find allies for the proposed takeover.
But he denied any suggestion that the first minister's support had been connected to more favourable coverage for Mr Salmond and the SNP in newspapers such as the Scottish Sun.
The BSkyB takeover was dropped after the phone hacking scandal at News Corp newspaper the News of the World came to light.
In a joint statement issued on Wednesday morning, the leaders of Scotland's three main opposition parties united to call on Mr Salmond to "urgently appear" before the Scottish Parliament to answer questions over his relationship with the Murdochs and News Corp subsidiary News International.
The statement read: "Alex Salmond must tell us whether or not he offered to lobby the UK government on behalf of the Murdoch family and News International with regard to their proposed takeover of BSkyB.
"It is an affront to Scottish democracy that while the Culture Secretary, Jeremy Hunt, MP, is making a statement on the matter, the first minister refuses to make a statement to the Scottish Parliament at Holyrood.
"The first minister cannot be allowed to treat the Scottish Parliament as second class. In the interests of Scottish democracy and in the interests of the Scottish people we call upon the first minister to make a statement to the Scottish Parliament, today."
'Never spoken'
The statement was signed by Scottish Labour leader Johann Lamont, Ruth Davidson of the Tories and Lib Dem Willie Rennie.
On Tuesday, a spokesman for Mr Salmond said Mr Murdoch's references were taken from a "handful" of emails which represented "internal chatter" within News International.
He added it was "total nonsense" to suggest there was ever any quid pro quo offered by the Scottish government over the BSkyB bid, because the Scottish government had "absolutely no determination over BSkyB's ownership".
The spokesman added: "Indeed, James Murdoch categorically rejected such claims in his evidence to the inquiry, and the proof of that lies in the fact that the first minister has never spoken to or corresponded with Jeremy Hunt on this issue."
Mr Salmond is expected to give his own evidence to the Leveson Inquiry at a later date.