Scottish tourist attraction numbers 'soar'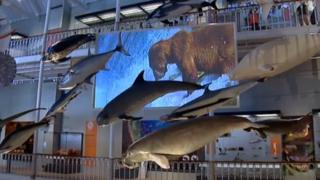 New and upgraded attractions helped draw four million more visitors to Scotland's main tourist sites last year, according to new research.
Numbers soared to 47 million with the opening of Riverside Museum in Glasgow and the relaunch of the National Museum of Scotland in Edinburgh.
The national museum was the busiest attraction with nearly 1.5 million visitors.
The 141% rise on the previous year's figure followed a major refurbishment.
Researchers from Glasgow Caledonian University's Moffat Centre based their findings on 649 tourist sites across Scotland.
They found the new Riverside Museum in Glasgow attracted more than one million visitors since its opening in June 2011, while St Giles' Cathedral in Edinburgh enjoyed a 20% rise to more than 851,000.
Historic Scotland's Edinburgh Castle was once again the biggest paid-admission attraction, with more than 1.3 million visitors.
Stirling Castle enjoyed a rise of 14.9% to 433,393, following a £12m refurbishment of the Palace Apartments.
The National Trust for Scotland's Robert Burns Birthplace Museum in Alloway, on the outskirts of Ayr, saw an increase of 49.1% to 444,947, following its relaunch in 2010.
Prof John Lennon, director of the Moffat Centre for Travel and Tourism Business Development, said: "Partly as a result of the new and upgraded attractions, the Scottish tourism industry continues to develop and we see positive trends.
"In previous years' we've had shocks such as the volcanic ash cloud and security issues which have negatively impacted on the figures.
"No doubt the recession and fuel costs have also taken their toll, particularly on the smaller and more remote attractions without a secure source of funding."
VisitScotland chief executive Malcolm Roughead said: "These are extremely encouraging figures, helped in no small part by the continuing trend for Scots holidaying at home and the 'daycation' market, which last year contributed £6.2bn to the Scottish economy."