Obituary: Film-maker and photographer David Peat
By Christopher Sleight
BBC News website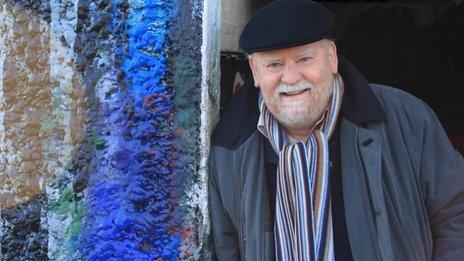 Scottish film-maker and photographer David Peat has died aged 65. Over a 40-year career, he became best known for his award-winning documentaries which focused on the lives of ordinary people.
David Peat's passion was documenting humanity. It was an idea he returned to constantly and an ideal he held dearly - whether he was recording people's lives on film or discreetly photographing them in the street.
It was a passion which drove him to master his craft and gave him an insight and empathy which made his films stand out.
Peat's television career began at the end of the 1960s. He left school with "few qualifications" - as he liked to put it - and spent some time working in a shipping office in Glasgow, before deciding he wanted to become a cameraman.
In the 1970s he was a film-cameraman, shooting documentaries like Big Banana Feet, which followed comedian Billy Connolly on a tour of Ireland at the height of the Troubles in 1976.
Working with acclaimed producers like the BBC's Paul Hamman and cameramen Charles Stewart, he also began to develop the observational skills that so marked his later work.
He made the transition to directing his own films in the early 1980s, with the support of producer Steve Clark-Hall at the fledgling Channel 4, going on to make the intimate observational documentaries he would become best known for.
BBC Scotland producer Tony Nellany, who worked with Peat on a number of films, said it was his complete dedication to his craft, combined with a personal warmth, that made him so successful.
"He was passionate about what he did. He never framed a shot without thinking and he would be there till the last beat of the edit," he said.
"He never got stuck or bogged down. He never saw anything as a problem. He would always find a way through it - and with integrity."
Peat turned his eye on the fishing industry, the mining industry and a cancer hospice - making films like Gutted, This Mine is Ours, Me and My Face, Life's Too Short and Please Leave the Lights On. He worked with the BBC, STV and Channel 4.
He also made several documentary series for the BBC, including The Man Who Cycled the World and The Man Who Cycled the Americas, which followed the exploits of Perthshire adventurer Mark Beaumont.
Peat dedicated much of his later years to passing on the skills he had learnt, running training courses at BBC Scotland and mentoring a younger generation of film-makers like Beaumont.
Neil McDonald, creative director of documentaries at BBC Scotland, said Peat was an "extremely talented" film-maker who had documented four decades of "seismic shifts" in Scottish industry.
"What made David great as a documentary-maker was an empathy with the people he was making the films about.
"He had an honesty and warmth that drew people to him. And as a photographer and a cameraman he had a superb eye," he said.
"He was really exceptional and will be much missed."
Peat was recognised in 2011 with a Bafta Scotland award for outstanding contribution to his craft, following dozens of other awards in the UK and the US.
That same year, another of his passions was brought to a wider audience.
For 40 years, while making films around the globe, Peat had been quietly snapping away with his beloved Leica, putting the observational skills he had learnt as a film-maker to good use as a street photographer.
He hoarded thousands of tiny contact sheets, but in all that time never got round to enlarging or documenting the black and white images until - "out of the blue" - he was diagnosed with incurable cancer in 2009.
"That was the motivation. I just thought, I am not prepared to fall off my perch and have all these thousands of negatives - my eye on the world - disappear," Peat said in 2011.
His collection of street photography includes striking images of the Gorbals in Glasgow in the 1960s - photographs he shot to build up a portfolio before applying for work as a cameraman.
Ken MacQuarrie, director of BBC Scotland, said Peat had treated everyone he met with "dignity, respect and sensitivity".
"Broadcasting and film-making will be much the poorer for his passing and our thoughts go out to his wife, Patricia and children, Duncan and Rosie, and many friends at this sad time," he said.
David Peat died on 16 April. He was suffering from Myeloma.
Related Internet Links
The BBC is not responsible for the content of external sites.