Fergus Muirhead answers your consumer questions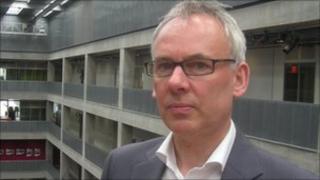 I'm Fergus Muirhead and I'm here to answer any questions you may have about any money or consumer issues.
Please drop me a line here at fergus@bbc.co.uk with your questions.
You can also read more on money and consumer issues on my own blog .
Q. I own a flat in Glasgow which my son has lived in since he was a student. It has appreciated in value and I would be liable for Capital Gains Tax were I to sell it at market value. It cost me £75,250 11 years ago and is now worth about £125,000. I estimate the total tax free amount I could set against its sale price this year would be around £100,000. This is made up of the £75,250 purchase price, plus £20,200 Capital Gains Allowance for me and my wife this tax year, and around £4,550 spend on solicitors' fees, factor's bills and some home improvements. My question is this: Can I sell £100,000 of the flat to my son this financial year, with the remaining £25,000 immediately thereafter in the following financial year, thus cutting the liability for potential capital gains on the property from £25,000 to about £4,800? Duncan McPherson
A. My understanding of what you are proposing is that it is legal, but designed to avoid tax so possibly open to challenge from HMRC. There is nothing to stop you and your son owing a share of your property at the same time although your son may find it difficult to borrow if there is another 'part-owner' of the property. You are also making matters complicated since you will need more input from lawyers to ensure that the joint title works for you both, and that the second part of the sale can happen in the next tax year, so it is possible that any tax you save will be wiped out in higher legal fees and more time and hassle. Maybe just easier to accept the fact that you have made a gain and pay the tax!
Q. We have always been upset by the fact that tax is due on our retirement pension and is taken from both a small annuity and a superannuation pension. Both of these have been paid for during our working lives out of earnings after tax. There was a report from a government committee which recommended that tax on the retirement pension should be lowered or abolished. What are the chances of this happening while the present pensioners are still alive to benefit from it?
A. There has been a number of reports out on changes to the State Pension Age, both in terms of the amount of the pension and the age at which it is paid, but as far as I am aware there has been no announcement that state pension income will cease to be subject to tax. The way that pension income is taxed is a complicated and often confusing subject and I will be covering it in detail on Reporting Scotland on 25 April.
Q. I just want to find out if I will get more money by allowing agents to apply for PPI on my behalf or will it still be the same even if I apply for it by myself? Is there any advantage of letting agents apply for it on my behalf apart from the time? Vincent Uzomah
A. The adverts will all tell you that you will get a bigger settlement if you use an agent to apply for a refund on your behalf, but I have not seen any evidence to confirm this, and of course you are likely to have to pay some of your refund over to the agents that act on your behalf. There are plenty of template letters available online, and it is not really a complicated process, so I would suggest that you have a go yourself.
Q. I have recently been paid off from work but as I will be 63 in May and received a good package, this is not a great concern to me. However I have a pension plan with Standard Life with the pot in excess of £100k. I recently received a letter from Standard Life concerning a ruling by the European Court which means that insurance companies can no longer take gender into account when calculating annuity rate. They suggest this ruling may reduce the income from most men's annuity and it may be to my advantage to take my annuity before the new rules are applied. I recently saw an item on BBC Breakfast where Paul Lewis said that it was not a good time to take out an annuity as the interest rate was very low at the moment and this would affect future increases in pension income. Can you give me any information to help me decide whether it is better to take my annuity now or leave it until my official retirement date of 2 May 2014? Dugald McCall
A. Paul is correct when he says annuity rates are low at the moment and of course this will have an impact on the income that you receive from your pension fund. I'm not sure whether rates will be any better in 2014 - the economy is volatile at the moment and it's not clear (and if you ask 10 economists you will get at least 10 different answers) whether or not the factors that affect annuity rates will be more in your favour in two years' time. Depending on the size on your pension fund and your need for income, it may be possible to take an income from the fund rather than buy an annuity, and take advantage of the 25% tax-free lump sum that you should be able to take from your fund to 'drip-feed' an income tax efficiently to you for the first few years. You really do need to take advice on this though and I would suggest you look for a pension expert IFA in your area and ask for a report on your options.