New prize fund from UK government for marine energy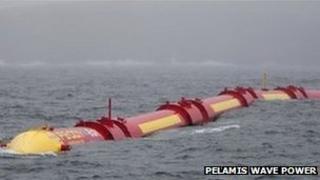 The UK government has funded a prize intended to encourage Britain's first full-scale wave energy projects.
Bids have been invited for the £20m prize.
The funding has been earmarked for clusters of tidal devices to be laid out in formation, a crucial step in making the technology commercially viable.
It has been estimated half of the world's leading companies in wave and tidal power are based in the UK.
They include Scottish-based AWS Ocean Energy, which is planning the worlds biggest wave farm, and Pelamis Wave power, which is testing its sea snake wave machine off Orkney and has a number of a leases, including to develop a wave farm off the Western isles.
The government has launched a marine energy park off the south west of England, linking university researchers and private companies.
A second marine energy park will be announced in the summer and is likely to be based in Scotland.