C.diff and MRSA infection rates fall in Scots hospitals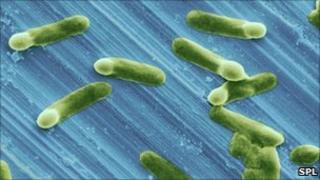 The number of cases of C.difficile infections in Scottish hospitals has fallen to the lowest level recorded, according to the latest figures.
Official data for October to December 2011 showed a 12% drop in cases in over 65s since the previous quarter, as well as a 4% drop for patients aged 15-64.
There were 50 new cases of MRSA, two more than the previous three months.
Other figures showed overall infection rates in Scottish hospitals had fallen by a third in the past six years.
Data from Health Protection Scotland's Point Prevalence Survey was gathered from 13,558 patients, 844 wards and 75 hospitals as part of a survey to provide a snapshot of all types of infection.
Health Secretary Nicola Sturgeon said she had made tackling Scotland's hospital infection rate a top priority.
She added: "Today's reports highlight just how far we have come - the overall level of infections has reduced by one third since 2006 and cases of some types of infection which cause particular concern, such as C.diff and MRSA blood stream infections, have fallen by over 75%.
"This is good news but I am in no doubt that there is still more that can be done as we strive to embed quality in all aspects of patient care in Scotland."
Ms Sturgeon said that the reports' findings would now be considered to help inform future policy and health priorities.