Drop in bird egg thefts after wildlife crackdown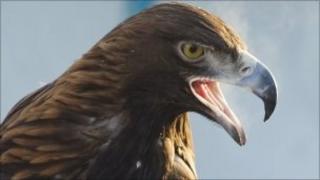 The number of people involved in stealing eggs from the nests of wild birds has dropped to an all-time low.
The UK National Wildlife Crime Unit said about 25 suspected thieves were thought to be operating, compared with more than 60 just four years ago.
Birds at risk in Scotland include the golden eagle and Slavonian grebe.
The figures have been released as part of Operation Easter - an annual crackdown on egg thefts, which coincides with the breeding season.
It began in Scotland in 1997 and sees groups, including RSPB Scotland and the police working together to share intelligence on egg thieves.
Those behind the scheme said the approach had resulted in several significant seizures of egg collections across the UK.
Ian Thomson, head of investigations at RSPB Scotland, said: "Operation Easter has had tremendous success, over several years, in both detecting and deterring the activities of egg collectors in Scotland and further afield.
"However, we cannot afford to be complacent, and this outdated pastime continues to pose a threat to some of our rarest species such as Slavonian grebe and golden eagle. RSPB Scotland is very happy to support this operation."
Environment Minister Stewart Stevenson said everyone had a part to play in combating egg theft.
He said: "While our member organisations are making significant headway tackling egg thieves, they can't do it alone and we depend on everyone who's out and about in the countryside to be vigilant and report suspicious activity to the police."