Female 'talent drain' identified in Scottish science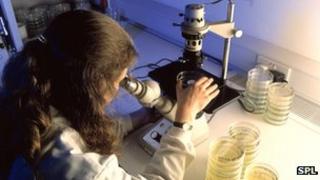 The majority of women in Scotland with scientific qualifications have not made full use of their skills, according to a new report.
In contrast, more than half of male science graduates still worked in the sectors in which they qualified.
The report from the Royal Society of Edinburgh (RSE) has called for a strategy to halt the talent drain.
It calculated that retaining women scientists could generate £170m annually for the Scottish economy.
The RSE research indicated that nearly three-quarters of female graduates in science, technology, engineering and maths (Stem) were not employed in areas relevant to their qualifications.
Possible reasons identified in the report included family pressures, the organisational structure of the science and technology sectors, and a lack of women role models.
The RSE said change is needed from the UK and Scottish governments, industry, universities and professional bodies.
Unequal representation
Prof Dame Jocelyn Bell Burnell, the astrophysicist who played a major part in the discovery of pulsar stars, chaired the working group which prepared the report.
She said: "In 1991 the number of female professors of physics in the UK doubled: it went from one to two.
"By 2009-10, it had risen to 36 - clearly a huge improvement.
"But that is still 36 out of a total of 650 professors of physics. A fifth of the UK university departments still have none.
"Clearly there is still much work to be done before women are more equally represented in this area."
The RSE has said more could be done to sort the "leaky pipeline" which leads to women leaving scientific professions.
RSE President, Sir John Arbuthnott, said: "Employers in key sectors are reporting large impending shortages of people with Stem qualifications.
"Scotland must address this issue. To be a smart economy, we need strength in Stem areas."