Alex Salmond asks to be investigated over ministerial code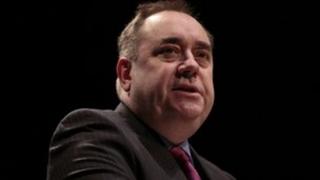 The Scottish first minister has asked independent advisors to investigate whether he has breached the ministerial code.
It was claimed last week that Alex Salmond had entertained two SNP donors and their wives at Bute House, his official residence.
He was also said to have invited EuroMillions winners Chris and Colin Weir to tea.
A spokesman for Mr Salmond said he had "total confidence" he would be cleared.
Mr Salmond said he had written to Dame Elish Angiolini, one of the independent advisers to the ministerial code and a former Lord Advocate, asking her to investigate whether a breach had occurred.
SNP ministers are also refusing a request under the Freedom of Information Act to release correspondence between them and Sir Brian Souter, the Stagecoach tycoon who has given the party more than £1m.
Government officials refused to release letters and emails to and from the bus tycoon, who was nominated for a knighthood shortly after making a donation to the SNP.
'Appalling hypocrisy'
The government first claimed it was exempt as it supposedly related to the Queen, then because it was too vague, and they have now rejected it a third time claiming it is "too wide-ranging".
On Sunday, Labour parliamentary business manager Paul Martin accused Mr Salmond of a "cover up", saying "the longer Alex Salmond desperately tries to keep these documents secret, the more people will think he has got something to hide".
But a spokesman for the first minister said Mr Salmond had taken the decision to refer himself to the advisers because he had "total confidence in our position, in light of this entirely spurious and absurd complaint from Labour".
The spokesman added: "No private dining for donors takes place at Bute House, never has under this administration, and never will. Labour, the party of cash for honours and the Ecclestone affair, are guilty of the most appalling hypocrisy.
"Government functions are all in the public domain because, unlike the last Labour-led administration, we publish details of everyone receiving Bute House hospitality at a reception, lunch or dinner.
"No-one has ever suggested prior to this that individuals should be excluded from government events simply because they are donors. This is a totally ridiculous proposition."
He added that hospitality costs at Bute House were significantly less for the SNP administration than under the previous Labour/Lib Dem executive.
Mr Salmond has also written to Mr Martin telling him he has referred the issue to Dame Angiolini.
Mr Martin said: "This is a welcome u-turn from the first minister who only days ago was claiming there was nothing worth investigating.
"There are serious and growing concerns about the first minister entertaining wealthy SNP donors on public property.
"Allegations of dinner for donors needs to be thoroughly investigated."